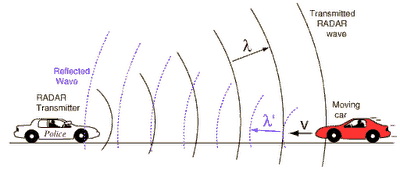 All about Police RADAR
RADAR speed detectors bounce microwave radiation off of moving vehicles and detect the reflected waves. These waves are shifted in frequency by the Doppler effect, and the beat frequency between the directed and reflected waves provides a measure of the vehicle speed.
A radar gun or speed gun is a small Doppler radar used to detect the speed of objects. A radar gun does not return information regarding the object's position or any information concerning the car e.g. Registration etc. It relies on the Doppler Effect applied to a radar beam to measure the speed of objects at which it is pointed.
Radar guns may be hand-held or vehicle-mounted. They can be used as a tool in the regulation of traffic speed by law enforcement and also to measure speeds in sports.
Most of today's radar guns operate at X, K, Ka, and (in Europe) Ku bands. An alternative technology, LIDAR, uses pulsed laser light.
The radar gun was invented by Bryce K. Brown of Decatur Electronics in March 1954, and was first used in Chicago, Illinois by Patrolman Leonard Baldy in April 1954.
There are radar detectors on the market which can detect most police radar and laser systems. Conversely, in the spirit of electronic warfare, some police radars are equipped with detectors of operating detectors.