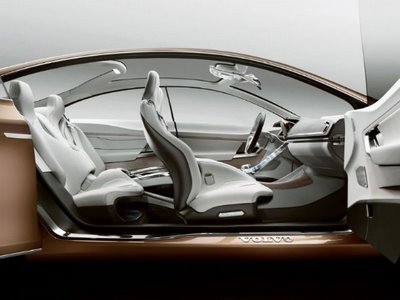 New Volvo S60 Concept. The new S60?
Volvo S60 Overview
Volvo has redesigned its Volvo S60 model with the aim of making him a car "more sports in all aspects," according confesses Gerry Keany, vice president of Marketing for the Swedish company.
A profile sports, that's the goal that have marked the designers of the Volvo S60 which now presents a slight redesign of the model.
What is most striking in this slight change of look is that almost all the aerodynamic elements that have been included have been added as an option. Thus, the front spoiler and rear are optional.
Volvo S60
On the inside there are also changes and are optional: new decorative metal panels, the steering wheel in leather finishes bright, customizable dashboard and interior rearview mirror with compass built.
Other general changes that do reach the series are intermittent integrated into the exterior mirrors, a new-style grille with more pronounced Volvo emblem and large and three colors of bodywork as a novelty: silver electric blue and red maple orinoco. Users can customize the car even more games with aluminum wheels available: Nodus (16 inches), Tucana (17 inches) and Eudora (18 inches) and with new upholstery, including one of bicolor and leather with stitches still present!
Photo gallery with the new concept!
Will be the new Volvo S60 ?
Pictures are from the autowereld.com with many thanks as usual!