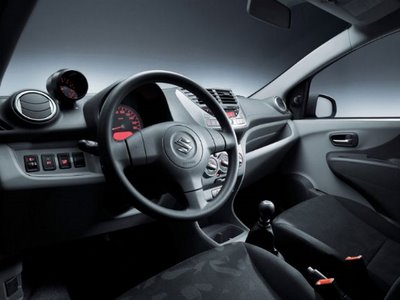 Suzuki Alto
The Suzuki Alto was introduced in 1979 and has since been built in many countries worldwide. The first model (SS40) was a 3-door version of the 4-door Fronte. It had a 543-cc 3-cylinder engine producing 28 hp (21 kW). A 3-door coupe (Cervo) and a 2-door pick-up (MightyBoy) were also available.
The 2nd-generation Alto (CA71/72) was introduced in 1984. It had the same engine, but was also available with turbocharged and multi-valve engines. A 5-door body became available in 1985. A Cervo on the SS71 base was introduced in 1988, with a new 547-cc engine.
The 3rd-generation Alto (CL11/21/22) was introduced in 1988. It had angular styling, with an unusual glazed C-pillar on the 5-door. Initially it used the SS71 Cervo's engine, but when the kei-car standards were changed in 1990 this was increased to 657 cc. A version with sliding doors, the Slide Slim, intended to make it easier to enter and exit in tight spaces was also available. Suzuki also produced a version (the Hustle) with a high roof behind the front seats, which was unusual in that it used a modification of the Alto's body rather than a completely new body.
The 4th-generation Alto (HA11) appeared in 1994. The 657-cc engines were joined by a new high-performance 658-cc. The styling displayed an interesting blend of features: the tailgate and rear doors are still fairly angular, but the front was more rounded – a trend which would be continued in later years.
The 5th-generation Alto (HA12/22) was introduced in 1998. The styling was generally more rounded.The 658-cc engine was produced in a version without a turbocharger, joining the turbocharged version and the 657-cc engines. Several derivatives were produced from this generation.