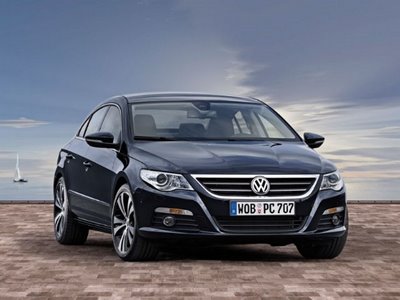 Volkswagen Passat CC Individual
— Overview about now VW Passat CC Individual edition
About VW Passat CC
In the fashionable world of sports sedans, the VW Passat has always been the wall flower in the grey wool suit; well dressed, if conservative. The style mavens at Volkswagen are hoping to change that image with the new 2009 Passat CC.
What they've attempted to do is turn the Passat, a sedan homogenized for global consumption, into a Euro-cool, haute couture ensemble. To this end, VW designers and engineers took the Passat and ripped up its seams, recut its sheetmetal, and tailored what they call the Passat Comfort Coupe.
Though it is technically wrong to call a four-door, four-seater a coupe, there is apparently a bit of latitude in the world of high style. It's not a new idea for zee Germans, either. Mercedes was the first with the Vision CLS concept – the car that eventually became the successful CLS. BMW has just released their soft road take on the four door coupe, with their X6 SUV sports activity coupe. The freshness of VW's take on this concept is that the CC is the first time we've seen this kind of roof-chopping, seat-removing action in a transverse, essentially front-wheel drive layout.