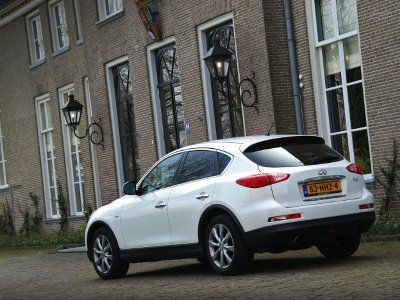 Infiniti EX37
The Infiniti EX37 is likely to be one of the most talked about new models launched in 2008. Powered by a new 3.7-litre version VQ family of petrol engines, EX37 brings together three different elements in one elegantly attractive package.
Its distinctive coupe-like styling masks a roomy cabin with electric fold down rear seats to extend the load bay and turn it into a sports estate. And then there's the raised driving position and four-wheel drive traction of an SUV to consider. It all makes EX perhaps the ultimate Crossover.
Exterior styling
Despite its Crossover status, EX37 has been designed following traditional Coupe lines. That means a stretched wheelbase, long bonnet, short overhangs and a sharply tapering roof line. It is noticeably lower than its key rivals which helps to accentuate its low centre of gravity and lends more credence to its Crossover status.

Although longer than most of its SUV rivals – which benefits interior space – a compact overall shape help give EX37 the best aerodynamic positioning in the sector.
Please continue reading here
Infinity is made in USA