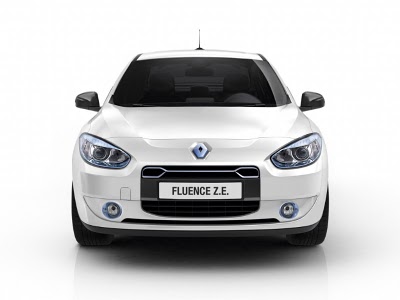 Renault Fluence Z.E.
Fluence Z.E. Concept is a statement of Renault's intention to produce a range of zero-emission vehicles that meet the needs of all types of customer. Fluence Z.E. Concept is a genuine family car which demonstrates that attractive styling, comfort and space can go hand in hand with respect for the environment.
Fluence Z.E. Concept is a genuine family car aimed at customers who want both roominess and style. The styling cues of Fluence Z.E. Concept combine the design language of motoring pleasure with the visual signature of Renault's range of electric vehicles.
Fluence Z.E. Concept possesses dynamic lines, highlighted by a fluid character line which sweeps from the headlights to the rear shoulders. It is 4,820mm long, has a wide track of 1,672 mm, is well-proportioned and exudes status-enhancing, elegant looks.
Fluence Z.E. Concept's warmly welcoming and refined interior is based on a combination of flowing forms, the use of soft, supple materials and a mottled ambience.
Passengers are comfortably seated in four enveloping seats robed in light leather upholstery.
The feet rest on a light blue translucent gel mat, while the brake and accelerator pedals, too, are covered in gel for a greater sense of comfort.
When the doors open, the courtesy lighting recalls the luminous blue signature of Renault's electric vehicle range.
Fluence Z.E. Concept is powered exclusively by an electric motor located near the front axle, in conjunction with a lithium-ion battery positioned between the rear seats and the boot.
Renault's designers and engineers worked closely together to develop a safe, practical vehicle capable of accommodating a large enough battery to ensure good range (160km), while also providing sufficient carrying capacity to cater for the requirements of an active family (327dm3).
Fluence Z.E. Concept is not respectful of the environment simply because it runs on electricity.
via Renault