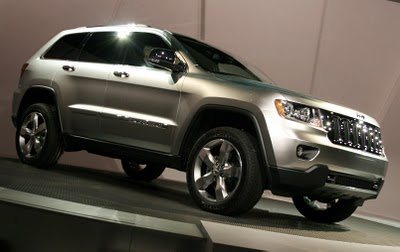 The Grand Cherokee's origins date back to 1983 when American Motors (AMC) engineers were designing a successor to the smaller Jeep Cherokee (XJ). The Jeep Grand Cherokee is a mid-size UniFrame sport utility vehicle produced by the Jeep division of Chrysler. European Grand Cherokees are manufactured in Austria.
Three outside (non-AMC) designers — Larry Shinoda, Adam Clenet, and Giorgetto Giugiaro — were under contract with AMC to create and build a clay model of the replacement model, then known as the "XJC" project.
However, the basic design for the Cherokee's replacement was well under way by AMC's in-house designers and the 1989 Jeep Concept 1 show car foretold the basic design.
The Grand Cherokee was the first Chrysler-badged Jeep product. Development work for the new model continued and Chrysler employees (after the 1987 buyout of AMC) were eager for a late-1980s release date; however, CEO Lee Iacocca was pushing for redesigned Chrysler minivans, thus delaying the Grand Cherokee's release until late 1992 as an Explorer competitor.
This is the first ad spot for the all-new 2011 Jeep Grand Cherokee, designed and built in America.
The company announced a US$1.8 billion, 285,000 square feet (26,477 m2) expansion of its Jefferson North Assembly plant to allow flexible manufacture of the next-generation model, as well as other undisclosed products off the same platform that was developed jointly with Mercedes (ML Chassis).