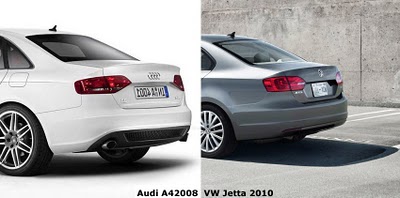 About VW Jetta
The Volkswagen Jetta is a mid range family automobile, produced by German automaker Volkswagen Group for the Volkswagen Passenger Cars marque since 1979.
Positioned to fill a saloon/sedan niche above the firm's compact / small family car Golf hatchback offering, it has been marketed over five generations variously as the Atlantic, Bora, City Jetta, Jetta City, Fox, GLI, Jetta, Sagitar, and Vento.
The Jetta was originally adapted by adding a conventional trunk to the Golf hatchback, and some distinctive styling (usually the front end, and sometimes slight interior changes). It has been offered in two- and four-door saloon (sedan), and five-door estate (station wagon) versions
About Audi A4
The Audi A4 is a compact executive car produced by the German car manufacturer Audi AG since late 1994.
The initial generation A4 succeeded the four previous generations of the Audi 80. And just like its Audi 80 predecessor, the Audi A4 automobile layout consists of a longitudinally oriented engine at the front, with transaxle-type transmissions mounted immediately to the rear of the engine, again, oriented longitudinally.
Drive output is transmitted to either the front wheels, or on some models, utilising Audi's 'trademark' quattro permanent four-wheel drive system via a Torsen centre differential.
The difference between Audi A4 and VW Jetta: