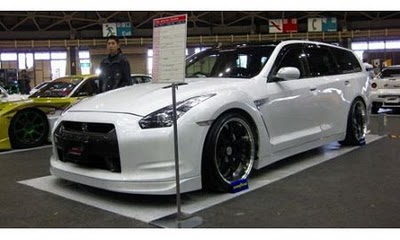 They took the wagon Nissan M35 Stagea and imagine if it were a supercar GT-R.
But what fun is reduced? At boring universal body simply a napyalili face of «Jit-era». True, Stagea not so broad in the shoulders, as a supercar, but imbalance quickly removed with the help of false weight.
But change looks not to the station wagon approached GT-R in terms of traction properties. Nevertheless, in line engines Stagea is a nice way.
For example, «turboshesterka» 2,5 VQ25DET output of 272 hp, giving a torque 407 Nm. However, on request tuners can squeeze under the hood and the cylinder bi-turbo «six» RB26DETT from the previous generation GT-R R34.
A relatively new Nissan Stagea wagon is available in Japan for 19 000 dollars, and for the body kit Kids Heart takes a further 10 000 dollars.
Nissan Stagea wagon produced from 2001 to 2007 in a number of modifications, and among them was even off-road touring. The car was built on a platform of V35, which, inter alia, based sedan Infiniti G35.