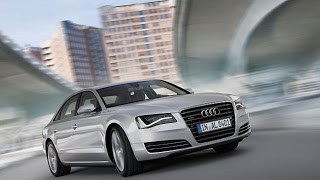 2011 Audi A8 Progressive Design: Audi Debuts Super Bowl Companion Ad During the NFL Playoffs
The new Audi A8 is an inspired study of progressive design. The new model is a collection of ideas and technologies that result in a shift of the luxury paradigm. Timeless Audi design principles live on, and in fact, evolve magnificently with the A8. Completely redesigned, the A8 embraces everything that makes the four rings a symbol of progress.
Audi today announced a new 60-second TV advertisement billed as a prelude to its upcoming Super Bowl ad. An evolution of Audi's ongoing campaign to redefine luxury, the companion spot taps into viewers' notions of old luxury with the help of an unlikely literary inspiration: Goodnight Moon, the 1947 children's book by Margaret Wise Brown, one of the best-selling children's books of all time.
The TV commercial titled "Goodnight" is inspired by the cadence and rhyme scheme of the original Goodnight Moon while taking the viewer on a journey through a traditional-style mansion laden with trite symbols of old, stuffy luxury.
The 60-second spot methodically says goodnight to the age of old luxury, defined by gluttony and excess, and features the all-new 2011 Audi A8 flagship sedan, the most technologically-advanced vehicle the company has ever produced and the apex of Audi's new luxury lineup.
The highly-acclaimed 2011 A8 will also be featured in Audi's upcoming Super Bowl TV spot, set to air in the first break after kick off on Super Bowl Sunday, Feb. 6, 2011.
"Research shows that consumer impressions are based in nostalgia and formed at a very young age. In 'Goodnight' Audi taps into these memories to break through the nostalgia and re-establish what it means to achieve luxury," said Scott Keogh, chief marketing officer, Audi of America.
"Today's luxury consumer exists in a world where status is no longer solely defined by tradition, but increasingly by their entrepreneurial accomplishments. As a result, they are seeking out new and more evolved luxury symbols that make them stand out from the crowd."
"Goodnight" begins airing Thursday, Jan 13, across cable networks, followed by a national network debut on Saturday, Jan. 15 and Sunday, Jan. 16, on CBS and FOX during the AFC and NFC divisional games. The spot also will air during the Sunday morning network news programs on ABC, CBS, FOX, and NBC.
Super Bowl XLV will mark the fourth consecutive appearance for Audi, the only auto maker in its class with Super Bowl presence for four years running.
Known for its aggressive and fun approach, Audi will once again deliver a fearless and intriguing Super Bowl spot that dares the viewer to re-think luxury. The 60-second TV advertisement is being created by San Francisco-based Venables Bell & Partners.
"We chose to feature the award-winning 2011 A8 because it represents today's standard of progressive luxury – sophisticated, yet memorable design, the most advanced technology available, and unmatched performance," said Keogh.
The all new 2011 A8 sedan has been hailed as a technological masterpiece with striking aesthetics. Setting new standards of luxury, dynamism and efficiency, the A8 features a light-weight Aluminum Space Frame® body allowing it to achieve equal or greater fuel efficiency than leading luxury hybrid vehicles. Audi's flagship A8 sedan also features a 19-speaker Bang & Olufsen® sound system, MMI® touch, Audi pre-sense safety features and the Audi signature LED lighting.
The past three years Audi has delivered highly-rated spots, including last year's "Green Car" ad featuring the Audi A3 TDI, Green Car Journal's 2010 "Green Car of the Year," and a soundtrack created by rock legends Cheap Trick.
The 2009 spot featured actor Jason Statham in a series of high-speed chase scenes involving luxury competitors, sending the dual message that luxury is evolving. The 2008 Audi spot delivered a parody of the movie "The Godfather" and signaled that the brand was ready to challenge the perceived luxury leaders by "putting luxury on notice."
US Audi Media News