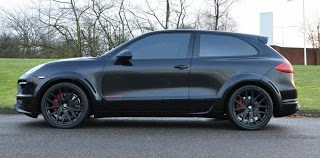 The Porsche Cayenne is a five seat mid-size luxury sport utility vehicle manufactured by the German manufacturer Porsche since 2002, with North American sales beginning in 2003.
Its platform was developed by Porsche and is shared with the Volkswagen Touareg and the Audi Q7. It is the first V8-engined vehicle built by Porsche since 1995, when the Porsche 928 was discontinued.
Since 2008, all engines have featured direct injection technology. The Cayenne's chassis type numbers are as follows: Type 955 (2002 – 2006), Type 957 (2007 – 2010), and Type 958 (2011+).
The second-generation Cayenne (Type 958) was unveiled at the 2010 Geneva Motor Show in March following an online reveal on February 25, 2010.
The Cayenne's frame and doors are sourced from Volkswagen, who uses the frames and doors for the Volkswagen Touareg model. All other aspects of vehicle design, tuning, production are done in house at Porsche.
British firm Merdad has announced that it will debut the Cayenne 902 Coupe at the upcoming MPH The Prestige & Performance Motor Show. Power ranges from 550-750 hp.
Starting with the latest generation of the Porsche Cayenne, Merdad chops off the SUV's rear doors and proceeds with the necessary changes to the rest of the body. A comprehensive styling kit with aero parts and a choice of black or silver colored 22-inch alloy wheels along with an electronic lowering module are then added to the 902 Coupe.
The interior of the two-door Cayenne is swathed in black leather and red Alcantara, plus unique trim and a new steering wheel.
Being a custom build, Medrad also improves the Porsche's performance offering various upgrades for the Turbo model (550bhp to 750bhp), with the most potent version boasting a 0-60mph sprint time of 4.4 seconds.