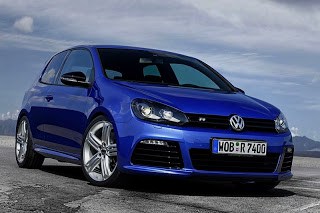 For most VW enthusiasts, we could have ended this article at the headline. For those of you who don't know and those who want the details, continue reading.
North American VW enthusiasts have been asking for it, and now they're going to get it. The most powerful production Golf to date is on its way to the shores of America in the form of the Golf R.
And with 50 more horsepower than the award winning 2.0L TSI®, this is the VW a lot of Dub loyalists have been waiting for. Here are a few juicy details to tide you over until its release.
The Golf R is fitted with a turbocharged, 2.0L inline 4, mated to a 6-speed manual transmission.
Power is delivered to all four wheels via the Haldex 4MOTION® all-wheel-drive system and exits the Golf R through a set of dual exhaust tips, centered at the rear.
Drivers will notice right off the line that the turbocharged engine blasts the Golf R from zero to 60 – and the bigger brakes bring it back to zero – faster than ever.
Available in 2-door or 4-door body styles, the R will feature a number of model-specific touches.
On the outside, it's equipped with unique 18-inch alloy wheels, R badging and body kit, while the interior packs in signature upholstery, doorsills, shift knob and steering wheel.
The Golf R will also come with dual- zone Climatronic® air-conditioning and leather seating surfaces, standard. The Golf R will be released in the U.S. in limited numbers for a very limited time.
Source: Volkswagen