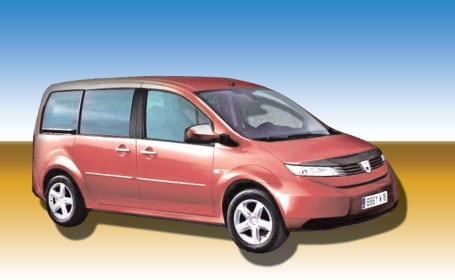 Dacia MPV is the new Dacia model that will be produced in Morocco and will cost about 13,000 euros.
In fact, this model looks a lot like the current MCV, only that it will be much higher.
The new MPV will be produced in Morocco Duster borrow traits from both, the grille and the CVM, the interior, where they can be folded flat bench, writes French newspaper L ##Q##Argus Automobile.
Monocab will have a starting price of 13,000 euros in petrol version and € 15,000 in the diesel version. The model will appear in the summer of 2012 will have dimensions of Scenic, 4.5 meters in length and it will be longer, higher and more spacious interior to break the CVM, but the price will be over 15% higher.
Argus Auto MPV write that will be available with three rows of seats and the seats of row two three folded, luggage space of 2,300 passes will be similar.
Dacia MCV and, according Argus Auto speculation, there will be a utility version with sliding side doors and rear doors asymmetric.
Morocco will become a very important center for production of Dacia.