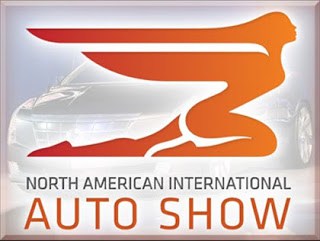 All new cars shown @ 2011 Detroit Auto Show
The first good news: Porsche will return to the show for the first time since 2007
Car and truck of the year award
The Chevrolet Volt and Ford Explorer were selected to receive the show's North American Car and Truck of the Year awards
Production car introductions
– 2012 Audi A6
– 2012 BMW 1 Series M Coupe
– 2012 BMW 6 Series Convertible
– 2012 Buick Verano
– 2012 Chevrolet Sonic
– 2011 Chrysler 300
– 2012 Ford C-Max (North American debut)
– 2013 Ford C-Max Energy
– 2013 Ford C-Max Hybrid
– 2012 Hyundai Veloster
– 2011 Jeep Compass
– 2013 Jeep Grand Wagoneer
– 2012 Mercedes-Benz C-Class
– 2012 Mercedes-Benz S350 Bluetec
– 2013 Toyota Prius Plug-in
– 2012 Toyota Prius V
– 2012 Volkswagen Passat (North American version)
Concept car introductions
– Ford Vertrek
– GMC Sierra All Terrain HD
– Honda Civic & Civic Si concept
– Hyundai Curb
– Kia KV7
– Mini Paceman
– Porsche 918 RSR
– Toyota Prius C concept
A new "Electric Avenue" section showcased electric vehicles from around the world, including some entrants for the Automotive X-Prize.
– Saab, Hummer, Infiniti, Suzuki, and Porsche did not attend the 2010 show.
Nissan and Mitsubishi did not have regular floor space, but the Nissan Leaf and Mitsubishi i MiEV appeared in the Electric Avenue section.
Car and truck of the year award
The Ford Fusion Hybrid and Ford Transit Connect were selected to receive the show's North American Car and Truck of the Year awards.
Production car introductions
– 2011 BMW 740i/Li (North American debut)
– 2011 BMW Z4 sDrive35is
– 2011 Cadillac CTS-V Coupe
– 2012 Ford Focus
– 2011 Ford Mustang GT
– 2011 Ford Mustang Boss 302R
– 2011 GMC Acadia Denali
– 2011 Honda CR-Z
– 2010 Hyundai Santa Fe
– 2010 Jeep Liberty Renegade
– 2010 Jeep Wrangler Islander / Mountain editions
– 2011 Lincoln MKX
– 2011 Mercedes-Benz E-Class Cabriolet
Concept car introductions
– Audi e-Tron Detroit showcar
– BMW Concept ActiveE
– Buick Regal GS
– Cadillac XTS Platinum
– Chevrolet Aveo RS
– Chrysler/Lancia Delta
– Fiat 500 electric
– GMC Granite
– Hyundai Blue-Will plug-in hybrid
– Mini Beachcomber
– Nissan Mixim EV
– Toyota FT-CH dedicated hybrid
– Volkswagen NCC
– Volvo C30 electric