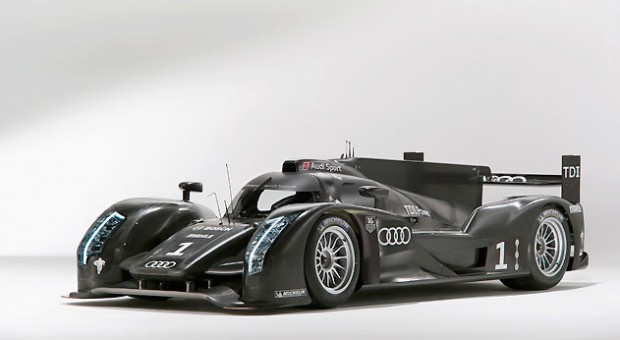 – Unchanged formation for 24 Hours of Le Mans
– 2010 Le Mans winners also race at Sebring
– Bernhard, Fässler, Kristensen and McNish form ILMC core team
Head of Audi Motorsport Dr. Wolfgang Ullrich has managed to sign all nine drivers who mounted the podium after last year's historical one-two-three Audi finish in the 24 Hours of Le Mans for Le Mans in 2011. The drivers who compete for the Intercontinental Le Mans Cup (ILMC) for Audi are also confirmed.
"Over the last few years we've had a very strong and harmonious driver line-up at Le Mans," says Head of Audi Motorsport Dr. Wolfgang Ullrich. "Any one of our three cars could have won, which explains why it was our aim to compete with an unchanged driver squad at Le Mans in 2011. I'm delighted that we achieved this. Now we can concentrate solely on the development of the Audi R18 and need not integrate any new drivers into the team, which would have been associated with additional work and risks. The schedule to Le Mans is tight enough as it is."
The three new Audi R18, competing in the 79th running of the endurance classic on 11/12 June 2011, will be occupied exactly as the three R15 TDI that broke the old distance record on the way to claiming the first three finishing positions. The R18 with start number "1" is driven by last year's winners Timo Bernhard (Germany), Romain Dumas (France) and Mike Rockenfeller (Germany). Le Mans record winner Tom Kristensen (Denmark) once again forms a team with Dindo Capello (Italy) and Allan McNish (Scotland) with whom he triumphed in 2008 at Le Mans. Last year's second placed finishers Marcel Fässler (Switzerland), André Lotterer (Germany) and Benoît Treluyer (France) share the third R18.
The same Audi Sport Team Joest squad also contests the official Le Mans test day on April 24 and the 6-hour race at Spa-Francorchamps (Belgium) on May 8, which Audi uses as dress rehearsal for Le Mans again this year and in which the technically innovative Audi R18 will celebrate its race debut.
For the opening round of the Intercontinental Le Mans Cup (ILMC) at Sebring (US state Florida) on March 19, Audi Sport Team Joest will compete with two Audi R15 TDI cars modified to comply with the new technical regulations. At the wheel sit current Le Mans winners Timo Bernhard, Romain Dumas and Mike Rockenfeller as well as 2009 Sebring winners Dindo Capello, Tom Kristensen and Allan McNish.
Tom Kristensen/Allan McNish and Timo Bernhard/Marcel Fässler are regular race drivers for the four remaining Intercontinental Le Mans Cup races held after the 24 Hours of Le Mans. If required, Audi can fall back on Porsche "factory" driver Romain Dumas to reinforce its squad at Road Atlanta.
"Due to the clashing dates in the DTM and ILMC it wasn't easy to form the driver squad," says Head of Audi Motorsport Dr. Wolfgang Ullrich. "For example, it prevented Mike Rockenfeller from driving a complete season in the R18. But with Porsche 'factory' driver Timo Bernhard, Marcel Fässler, Tom Kristensen and Allan McNish for the sport prototypes we have a strong core squad with which we are well placed."
In addition to the races a comprehensive test program with the Audi R18 is on the agenda for all nine Audi sportscar drivers. The tests will be held in the USA and Europe.
The 2011 Audi driver line-ups
Sebring
Dindo Capello/Tom Kristensen/Allan McNish
Timo Bernhard/Romain Dumas/Mike Rockenfeller
Spa, Le Mans
Dindo Capello/Tom Kristensen/Allan McNish
Timo Bernhard/Romain Dumas/Mike Rockenfeller
Marcel Fässler/André Lotterer/Benoît Treluyer
ILMC after Le Mans
Tom Kristensen/Allan McNish
Timo Bernhard/Marcel Fässler