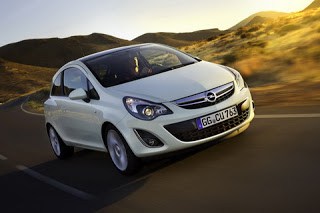 Opel Corsa brings a new look for 2011
The Opel Corsa OPC is a statement of pure driving fun. Since its launch in 2007, 13,000 units have already been sold. Eye-catching styling is backed by breathtaking performance from a 141 kW/192 hp turbo engine and a Sport Chassis set-up honed on the Nürburgring Nordschleife.
While OPC stands for Opel Performance Center, car enthusiasts know OPC is more than just an acronym – it is an expression of pure passion. OPC showcases just how much sporty potential and technological expertise is in Opel cars. The OPC versions evoke emotion and are the top of the-line variants in their model range for driving dynamics.
This ultimate expression of the Opel Corsa range's dynamic appeal is a muscular car that now delivers a searing pace with fuel consumption reduced by 7.6 percent and CO2 emissions lowered by 9.5 percent. Performance is not affected by these changes.
The lower fuel bills let Opel Corsa OPC drivers enjoy the fun even longer, increasing the range by about 50 kilometers. This year, the OPC Team has upgraded the powertrain and improved the steering system to add more feel to the excitement on offer.
From January 2011 Opel Corsa will have new design that will align with that of the town and Astra Insignia. After 2010 Opel engines and chassis modifications, Opel is trying to keep the sales trend for a model that has proved successful in Europe.
The exterior changes are brought light to accentuate the dynamic and youthful air of the car. When viewed from the front, it is noteworthy aspect is the "smiley face" approached by Opel.
Inside, the most obvious change is remarkable central console. Opel Corsa comes equipped with a multimedia system with seven speakers, touch screen 5 "(the Touch & Connect), navigation system, Bluetooth and USB port.
In terms of motorization, Opel introduced the technology & Start / Stop the 1.3 CDTI engine that now produces 95 horsepower. In Chapter consumption, Opel is overly optimistic and specify only 3.5 l/100km on the extra-urban scheme for three-door version.
From personal experience, said that consumption is far from the actual driving conditions. Not to mention said urban consumption of 4.2 l/100 km which is a fantasy
There's always something happening in the Opel Corsa: Everything changed under its skin in 2010 – its chassis, its steering system and engine line-up. As of January 2011, Opel's successful small car now gets a new wardrobe.
A redesigned face lends it a sportier, expressive look, making it firmly recognizable as a member of the latest Opel design family.
A new Opel Corsa ecoFLEX, 1.3 CDTI developing 70 kW/ 95 hp also enters the range, with Start/Stop technology as standard. The three-door version requires only 3.5 liters diesel per 100 km and so emits just 94 g/km CO2.
To stay connected with the world, a new multimedia infotainment system with seven, 4×20 watt loudspeakers debuts in the Opel Corsa.
Called "Touch & Connect," this versatile system features a five-inch color touch screen, full navigation coverage for 28 countries, Bluetooth, iPod and USB connections. It is universally connectible, simple to use and has every convenience for the 21st century built in, at a very competitive price.
Inside and out, new, contemporary colors and decors are offered. In addition to a modern charcoal hue, the interior can also be dressed with more expressive Tabasco Orange or Steel Blue decors.
The new exterior color palette integrates a delicate off-white Guacamole, eye-catching Grasshopper green and daring Henna.
In addition, the successful Color Line featuring special, sporty looking versions are enriched with a new optional "Linea" pack, featuring two large stripes stretching across the length of the body with matching colored 17-inch wheels and exterior mirror caps.
A major player in the European market since 1982, the Opel Corsa offers one of the widest product ranges in the small car segment. It has many features – like a heated steering wheel or FlexFix integrated bicycle carrier – not offered by its peers.
The major technological changes made in early 2010 in the chassis and powertrain also make it one of the most desirable small cars around: Its share in the small segment this year has increased in many European markets such as Italy, the UK, Spain and Germany.
The small car is a highly popular choice throughout Europe, accounting for some 27 percent of all Opel/Vauxhall sales and placing itself among the leaders in its segment. On average, more than 400,000 units were sold annually the last three years.
The Opel Corsa's latest facelift builds on the strong foundation of its existing, successful design. It still retains its approachable, friendly character, but now introduces a bold, dynamic face seen in Opel's new design language.
The sporty execution is achieved by re-proportioning the upper and lower grilles. The lower grille has become wider and taller, thus visually widening the car.
In addition, closer examination reveals that a high degree of attention has been paid to the grille mesh, which replaces the current horizontal grille bars. The result is a car with a more dynamic stance on the street. The proud Opel logo is integrated into a newly designed larger and sculptured chromed bar, adding to the expressive appearance of the front.
Chiseled Opel eagle eyes have been added to the new headlamps along with the wing-shaped daylight signature lamp that made its debut in the Insignia and is now featured in all new Opel products.
The internals of the lamp have also been refined to create a very jewel like execution that enhances the sporty look. The new fog lamp units with integrated chrome blade complete the more expressive presence of the Opel Corsa's new face. The new look is further enhanced with six new alloy wheel designs and a large, redesigned Opel Blitz on the tailgate.
The line-up of the new Opel Corsa ranges from 65 hp to 192 hp. This powertrain family has been revitalized in 2010 with many new engines that reduce fuel consumption and CO2 emissions by up to 13 percent while increasing engine power in most applications.
Starting now, eco-friendly Start/Stop technology becomes a standard feature on the Opel Corsa ecoFLEX powered by the 1.3 CDTI 70 kW/95 hp engine. Thanks to this new feature, the fuel consumption in the combined cycle is reduced from 3.7 to 3.5 liters/100 km and the emissions from 98 to only 94 g/km CO2 on the three-door version. The five-door variant achieves 3.6 l/100 km and emits just 95 g/km CO2.
It's mainly in the urban cycle that Start/Stop technology brings its major benefits, with a fuel consumption of now 4.2 liter per 100 kilometers instead of 4.6 l/100 km previously.