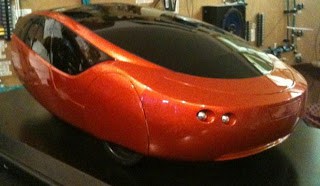 Urbee is a two-passenger hybrid car being designed by Kor Ecologic Inc. to be incredibly fuel efficient, easy to repair, safe to drive, and inexpensive to own. It will last for decades and be good for the environment.
Urbee is designed to be environmentally sustainable. This is because it can efficiently store and use exactly the amount of solar and wind energy you can collect on a one-car garage in one day. If you want to go farther in a day, you can use its ethanol powered engine.
There is much about Urbee that is highly innovative. However, the innovation does not lie in expensive 'start-of-the-art' technology, the use of expensive materials, or complicated manufacturing processes. Urbee's innovation is that it uses widely available materials and components in original ways.
The designers of Urbee have attempted to maximize the distance that can be traveled per unit of energy consumed by minimizing seven important properties of the car: weight, coefficient of aerodynamic drag (Cd), rolling resistance (Crr), frontal area, maximum speed, maximum acceleration.
Lear more about the future of Urbee (via).