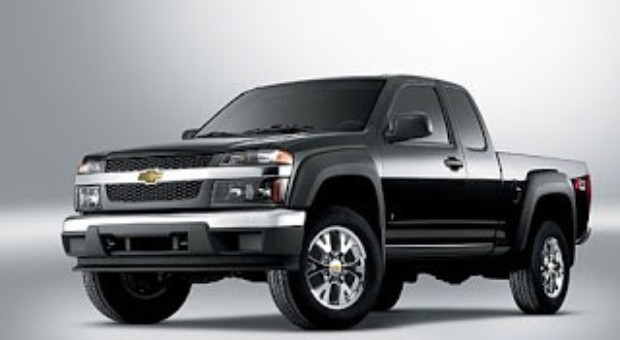 Chevrolet today revealed the Colorado Show Truck in advance of the Bangkok International Auto Show, where it is making its global public debut.
The concept previews the next-generation Colorado midsize pickup truck, which will build on Chevrolet's strong truck DNA and award-winning heritage. The Colorado goes on sale in Thailand later this year.
"Thailand is the world's-largest market for midsize pickups, so this was the perfect location in which to unveil our new Colorado," said Susan Docherty, vice president, GMIO Sales, Marketing and Aftersales.
"Trucks have been part of Chevrolet's core for nearly all of its 100-year history. The Colorado reinforces that heritage with expressive design, refinement and uncompromising capability."
The show truck features an extended-cab body atop a high-stance AWD chassis and rides on large, 20-inch wheels and off-road tires. Power comes from an efficient 2.8L turbo-diesel engine, which produces a broad torque band for excellent cargo and towing capability.
"Although this is a show vehicle, the basic proportions and form convey the vision for the next-generation Colorado that we will bring to market," said Brad Merkel, GM##Q##s global vehicle line executive.
"It reflects a stylized version of the new truck, one that takes into account rugged dependable truck capabilities for commercial use as well as sophisticated refinement for personal-use needs."
While the new Colorado was developed within GM's global product development organization, engineers took careful steps to ensure it would meet local market needs. Roberto Rempel, GM##Q##s global vehicle chief engineer, lived in Thailand for several months during the truck's development, immersing himself in the market and observing how the Thai people use their trucks and the road conditions they experience.
"Pickups are instrumental in the vibrant Thai economy and owners take great pride in their trucks, which are used for both work and personal driving," he said.
"These customers ask a lot of their trucks, so the powertrains and chassis must be very robust to earn their trust – and that's exactly what we've delivered."
Inside, there's another signature Chevrolet cue: a dual-cockpit instrument panel design.
It flows into the doors, with continuous lines that create a floating, wraparound effect, amplifying the Colorado's feeling of spaciousness. Ice-blue lighting and high-quality, "double-faced" leather-trimmed seats add sophistication and refinement.
"The interior is designed to deliver a premium and inviting environment, with a greater feeling of spaciousness than is typically found in midsize trucks," said Welburn. "There's also great attention to detail in the execution of the features you see and feel."
A brace of motorcycle-inspired, three-dimensional gauges stand out on the instrument panel, projecting a sporty appearance.
Contrasting trim used with the light-colored leather seating, dark wood trim accented with chrome and low-gloss and soft-touch materials are used throughout for a premium feel.
A number of storage compartments are located throughout the interior, including a covered center bin for concealment of valuable items, and a large, dual glovebox.
Additional features include a dual-zone, digital climate control system and the latest in "infotainment" technology. The show truck highlights an ergonomically positioned 7-inch LCD display in the center stack, for easy viewing and intuitive control of Web access, navigation, music and hands-free phone features.
Source: General Motors
(Visited 5 times, 1 visits today)