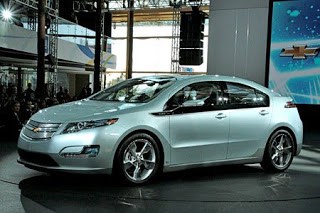 The 2011 Chevrolet Volt was named 2011 World Green Car of the Year at the New York Auto International Auto Show.
The World Green Car Award is the latest in a series of major awards for the Volt, which previously was named:
■ 2011 North American Car of the Year
■ Motor Trend 2011 Car of the Year
■ Green Car Journal 2011 Green Car of the Year
■ Car and Driver 10Best for 2011
■ Ward's AutoWorld 10 Best Engines for 2011
■ Automobile Magazine 2011 Automobile of the Year
■ 2010 Breakthrough Technology, by Popular Mechanics
The Chevrolet Volt was chosen from an initial entry list of 12 new vehicles from around the world, then a shorter list of 10, then three finalists: the Chevrolet Volt, the BMW 320d Efficient Dynamics Edition and the Nissan Leaf.
The award is decided by a panel of global automotive journalists.
To be eligible for the overall World Car Award, the candidates must become available for sale on at least two continents during the period beginning Jan. 1, 2010 and ending May 30, 2011.
The Chevrolet Volt will be eligible for the 2012 World Car Award as the Volt goes on sale in Europe and Asia later this year.
"The selection of the Volt as the World Green Car is a further proof point of the fuel-efficient technologies that are now being offered by the Chevrolet brand around the world," said Rick Scheidt, vice president of Chevrolet marketing.
"This award, and the others that have preceded it, validate the efforts of the development team to build a truly remarkable vehicle with the potential to transform transportation around the globe."
Source: Chevrolet