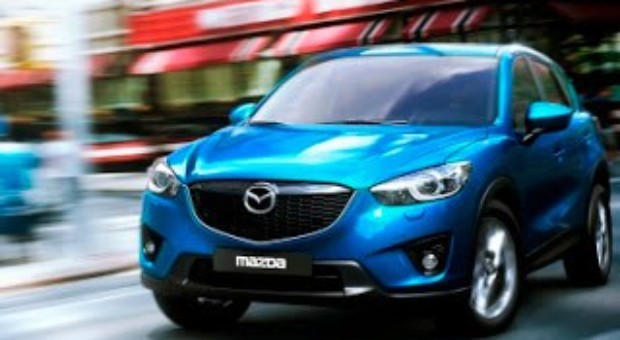 2013 Mazda CX-5 Exterior and Interior Photo Tour
2013 Mazda CX-5 Exterior and Interior Photo Tour
Mazda is unveiling the all-new Mazda CX-5 compact crossover SUV at the 2011 Frankfurt Motor Show.
The CX-5 is the first vehicle of a new Mazda generation that will adopt the full range of Mazda##Q##s breakthrough SKYACTIV TECHNOLOGY and new design theme, ##Q##KODO – Soul of Motion##Q##, which was showcased by the Mazda SHINARI and Mazda MINAGI concept cars.
The new Mazda CX-5 will be introduced progressively to global markets beginning early in 2012.
Developed around SKYACTIV TECHNOLOGY – including all-new Mazda petrol and diesel engines, manual and automatic transmissions, body and chassis – the CX-5 delivers precise response and a high-quality, rewarding ride matched to outstanding environmental and safety performance.
The CX-5 is the first of a new generation of Mazda vehicles that will evolve the company##Q##s hallmark fun-to-drive character by providing a new level of driving pleasure.
Aiming for the Best of all Worlds – Making a crossover SUV with enduring appeal
CX-5 Programme Manager, Hideaki Tanaka, says: "We aimed to develop a vehicle with a long-term appeal that would delight owners and make them proud for years to come. I think that these were the most important values we had to embody in the CX-5.
We wanted to deliver the best of all worlds in order to suit the various lifestyles and life stages of our customers, and satisfy their high expectations over the long term. Specifically, we focused on providing pleasure through the CX-5##Q##s appearance, ist precise handling, its insightful functionality, and its long-term appeal.
By aiming to achieve the ideal in each area, we pursued the innovation of driving pleasure."
Sursa: YouTube
(Visited 2 times, 1 visits today)