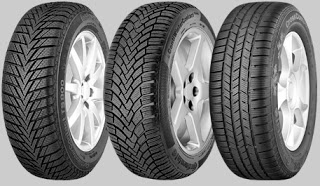 Continental Tyres
The "golden autumn" may have been a long time coming, but the temperatures are dropping quickly. Some drivers have already had to scrape ice off their windshields.
This can only mean one thing: The winter tire season is fast approaching – whether you go by the climate (1st rule of thumb: when temperatures drop below seven degrees) or the season (2nd rule of thumb: "From October to Easter").
Either way, Germany##Q##s car drivers should make appointments to have their winter tires fitted. If you put it off too long, you can expect to have a long wait for an appointment and for some of the more in-demand winter tire models.
Smart drivers are making appointments already now.
If you are fitting winter tires yourself, make sure that the remaining tread depth is at least four millimeters.
"Below this limit, the performance typically offered by winter tires deteriorates considerably," warns Dr. Andreas Topp, Head of Winter Tire Development at Continental. "Don##Q##t cut corners in the wrong places when it comes to your tires. Precisely when visibility is poor or the roads are covered in snow or ice, every meter of braking distance counts."
If you need to buy new winter tires, take a look at the results of tests conducted by the trade press, automobile clubs, and consumer protection organizations. Here, the winter tires from market leader Continental, for example, either came out on top or were highly recommended.
However, consumers should exercise a little more skepticism when it comes to no-name winter tires available from your local DIY store or manufactured in China.
Very often, these fail to fulfill even the most basic safety requirements. Consumers should also not allow themselves to get confused by the EU tire label, which will be required on every new tire from the start of next month.
While it provides information about braking distances on wet roads, rolling resistance, and external noise, it does not cover winter properties.
Consumers should therefore continue to look for the snowflake symbol, which appears only on true winter tires.