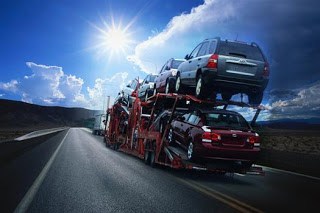 Car Transport Tips
All companies should do inspection reports of the vehicle at pick up and delivery.
Be sure to document the mileage on the car before and after transport. In case of damage, it is your responsibility to make sure these reports are correctly updated to prove and ensure reimbursement for the damages.
Be honest with the company you are contacting in regards to any personal items you have in your vehicle.
Trucks are weight limited and are weighed in each state they travel across. They can be charged large fines in every state for being overweight. Also, most companies will not insure any items inside the vehicle. It is usually best to send your car empty on a truck.
Read the contract completely before signing. Be wary of hidden fees that are listed in the small print on the contract.
Research a company very well, and make sure they are Members of the Better Business Bureau, Bonded, Licensed, and Insured.
Check costumer services, good customer service determines how well the company communicates with its customers, and if there is good communication between customers and the company, then it is less likely that problems will occur during shipping.
Always check and compare shipping rates, the initial quote that an auto transport company gives you is usually just a ballpark estimate of how much the entire service will cost, but some companies stick to their estimate. If you really need to know the final cost of delivery, then get a quote, and call companies that you received bids from. Some companies will tell you up front how much the entire ordeal will cost, with minimal extra charges. These rates will be higher than other initial quotes, but additional charges can severely affect the price you end up paying.
DO not pay anything upfront! And make sure you do not go with the lowest priced companies.
Companies priced in the middle are the most reliable in our experience.