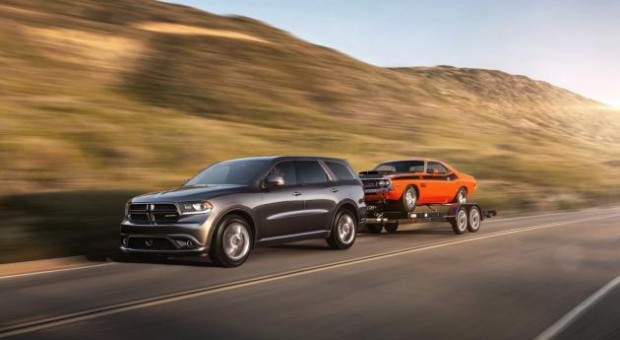 The Dodge brand is upping the ante in the fast-growing full-size sport-utility vehicle (SUV) and crossover segments, introducing the new 2014 Dodge Durango at the 2013 New York International Auto Show.
This new SUV is built on the Dodge brand's pillars of performance, style and innovation, delivering a new standard state-of-the-art class-exclusive eight-speed automatic transmission that improves fuel economy up to 9 percent, the Chrysler Group's award-winning Uconnect Access easy-to-use touchscreen technologies and the Dodge brand's signature racetrack LED tail lamps to driving enthusiasts in the market for a three-row family performance SUV.
The new 2014 Durango continues to deliver excitement and refinement with world-class suspension and performance. Benchmarked against premium performance SUV's in the market, Durango delivers modernized refinement with electronics, suspension and structural characteristics that are usually found at much higher price points.
The unibody structure is built with a selection of high-strength and ultra-high strength steels that improve driving dynamics by integrating the suspension with the body — reducing flex and weight when compared with body-on-frame designs says Chrysler Group.
The short/long arm front suspension and isolated multi-link rear suspension features isolated front and rear cradles to deliver precise on-road handling and comfort. The four-wheel independent suspension, combined with the Durango's nearly 50/50 weight distribution, transmits to a solid driving feel and fun-to-drive characteristics.
Dodge Durango delivers on the pavement with aggressive shock and spring rates and large sway bars to handle body roll in hard turning maneuvers. Electro-hydraulic power steering, unique caster and camber settings along with standard electronic stability control also contribute to maintain tire grip and vehicle stability.
The 2014 Dodge Durango's rear-wheel-drive-based drivetrain is the foundation for its outstanding on-road driving performance. Available all-wheel drive (AWD) further enhances driver confidence by leveraging the SUV's 50/50 weight distribution.
If driving is a passion for you, or if you need the capability of towing up to 7,400 pounds, the restyled 2014 Dodge Durango may be just what you're looking for. While its standard 3.6-liter V-6 delivers 290 horsepower and 260 pound-feet of torque, an available 5.7-liter Hemi V-8 pumps out 360 hp and 390 pound-feet of torque (delivering the aforementioned towing capacity).
In R/T trim it's a remarkably entertaining SUV, too, though to be fair the Durango wouldn't be out first choice for serious off-roading or for the best possible fuel economy. If you can live with those compromises, the 2014 Dodge Durango deserves a spot on your shopping list.
The vast majority of SUV drivers don't feel their pulse race on a canyon road, though, and getting from one place to another with as little drama as possible is their top priority. For this type of SUV shopper, the all-new 2014 Toyota Highlander serves up plenty of capability and ups the ante for 2014 with more aggressive, off-road styling.
The 2014 Dodge Durango features a new Eco Mode that contributes to its improved fuel economy. Eco Mode optimizes the transmission's shift schedule, as well as throttle sensitivity, and Fuel Saver Technology with cylinder deactivation in V-8 models, to maximize fuel economy. The Eco Mode also manages interactive deceleration fuel shut-off (IDFSO), which cuts fuel delivery when the vehicle is coasting to reduce fuel consumption.
Eco Mode is automatically engaged upon vehicle startup. A button on the Durango's center stack allows drivers to disengage Eco Mode if more spirited performance is desired
(Visited 1 times, 1 visits today)