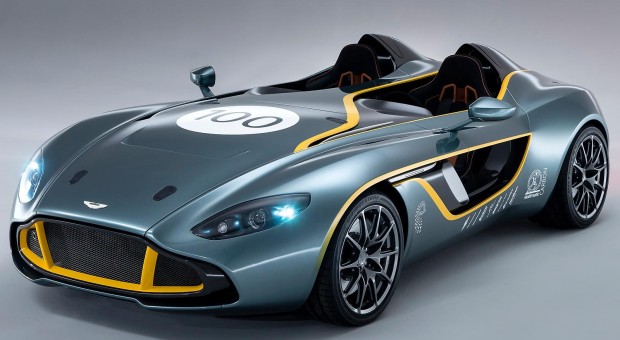 When a car manufacturer sets out to create a car to celebrate an anniversary, they sometimes end up with a beige box that now has some new headrests and then they call it a day. It's amazing! Aston Martin is celebrating its 100th birthday with this bold CC100 concept car!
Aston Martin has splurged on a present for itself as the company celebrates its 100th birthday this year. The British automaker has built a special one-off car called the CC100 Speedster Concept, whose styling pays homage to the legendary Aston Martin DBR1 race car from the 1950s, while also giving an idea of what future production cars will look like.
It's a wild roofless speedster based on the V12 Vantage supercar, and is initially reminiscent of the Mercedes SLR McLaren Stirling Moss. It's designed to meld influences from the 1959 Aston DBR1 – which, coincidentally, Moss won the 1959 1000km of the Nurburging in – with hints of Aston Martin's future design direction.
There's no roof or glass, while in the place of conventional doors are opening safety bars, leading to substantial side openings. The chassis is aluminium (the same VH architecture that underpins most road-going Aston Martins) while the body is all carbonfibre, but painted with the same patented treatment as the new Vanquish and One-77 so that its natural weave can't be spotted. It's a two seater, but with a relatively spartan, racecar-like interior with lots of varnished carbonfibre. Overall, the CC100 weighs nearly 400kg less than a V12 Vantage, at an Audi TT-like 1370kg.
There's no gearstick, Aston Martin's six-speed automated manual Touchtronic transmission mated to the 565bhp version of Aston's 5.9-litre V12 engine, as seen in the new Vanquish, though the wheelbase and basic chassis components are the same as its smaller Vantage sibling. Its top speed is limited to 180mph while 0-60 should take around four seconds. We'd recommend a helmet before attempting either…
Source, please read more.