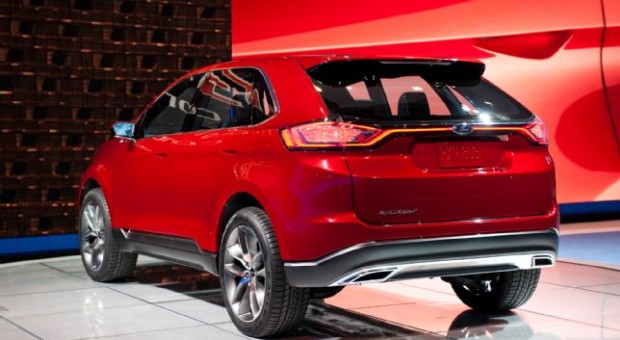 2013 Ford Edge Concept Revelead
Ford, the company that defined the crossover utility vehicle segment, today introduced new automated driving technologies in the Ford Edge Concept. The technologies include a push-button and remote-operated parking feature customers could use from either inside or outside the vehicle.
Key attributes of the Ford Edge Concept – a sleek, sporty appearance; capability; fuel efficiency; and technology that assists the driver – are in line with what customers value around the world, which is driving global growth in the utility vehicle segment.
Data provided by IHS Automotive indicate global utility vehicle sales grew 45 percent between 2007 and 2012. The utility segment now accounts for more than 13 million sales annually – 17 percent of the global automotive market.
Fully assisted parking aid, a prototype technology, lets customers park their vehicles at the touch of a button, or even by remote control. The concept builds on Ford's current active park assist feature. It can find a perpendicular parking space using ultrasonic sensors. From inside, the driver pushes a button to activate the system; from outside the vehicle, fully assisted parking aid can be remotely activated, allowing customers to wait until the vehicle has pulled out of a tight parking spot before entering.
Using similar sensor and automated vehicle control technology, Ford has also begun a research project designed to refine advanced obstacle avoidance systems. In this case, the research and development vehicle is able to issue warnings if it detects slow-moving or stationary obstacles in the same lane ahead. If the driver fails to steer or brake following the warnings, the system will automatically steer and brake the vehicle to avoid a collision.
Utility vehicle sales in China are projected to grow significantly, by more than 100 percent from 2012 to 2017, according to IHS Automotive. In South America the utility segment is projected to grow 39 percent, and in Europe it is projected to grow 27 percent over the same period.
The current Ford Edge remains a segment sales leader in the United States. Edge is especially well-received in Southern California, where it accounts for nearly one in four sales this year of five-passenger medium utility vehicles. With market share of 23 percent, Ford Edge is the best-selling five-passenger utility vehicle in Southern California, according to Ford analysis of retail registration data from R.L. Polk.
Moreover, U.S. Ford-brand utility sales overall are up 12 percent through October compared to last year, and Ford utility vehicles will be America's best-selling utility brand for three straight years in 2013, as it is outpacing the nearest competitor by 32 percent through October.
---
Source, please read more.