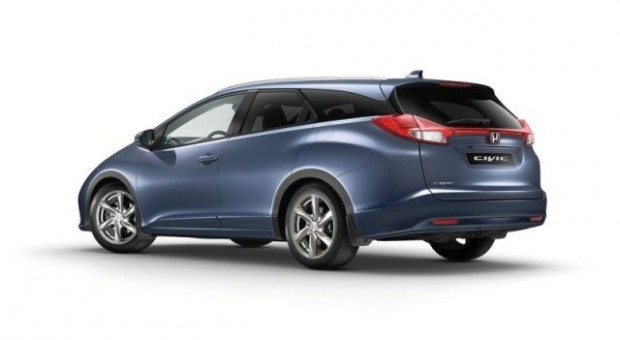 2014 All-New Honda Civic Tourer
The 2014 Civic Tourer was developed and designed in Europe, allowing Honda's European R&D team to lead the creative and technical design process. The car is specifically designed to match the requirements of European customers and European driving conditions. With the Civic name synonymous with multi-dimensional, compact cars; what better place for the development team to start than with the solid foundations of the Civic 5-door.
The Civics of the 1970s and 1980s had low and sleek exterior styling, which helped to emphasise the car's sporty characteristics; but inside they still delivered roominess and versatility.
As the Civic has evolved over the last 40 years, it has remained true to this marriage of sleek, sporty styling and practicality. Known for its clean, dynamic and distinctive design, the current Civic 5-door uses a unique centre fuel tank layout which sees the tank located under the front seats. This allows for unparalleled interior space and Honda's innovative Magic Seat system. This arrangement is carried over to the Civic Tourer.
"The Civic Tourer is the most compact Wagon in the C-segment – just 235mm longer than the Civic 5-door. It is also the lowest Wagon in the C-segment, yet it has the biggest trunk volume in this sector". Patrik Ponec, Project Leader Project Planner, Civic Tourer
Strong Honda heritage in Wagon derivatives in Europe
The Civic Tourer development team has drawn upon many years of experience in developing Wagon body types. The first Honda Wagon was the three door Accord derived AeroDeck introduced in 1986 followed by an Accord Wagon (limited to EU) in 1991. Further Accord Wagon models followed before the Accord Tourer, which was first introduced in 2002.
The first Civic Aero deck was unveiled in 1998 and it was the first Honda exclusively designed for Europe; and the third car to be built at Honda of the UK Manufacturing (HUM), in Swindon, UK. True to Honda's roots in Wagons, the development team set out to combine practicality and style with an above average level of performance. The view of the team at the time was that 'Wagons' may be practical but rarely offer much style to interest keen drivers. Wagon sales across Europe at the time accounted for 16% of the C-segment and were growing steadily in popularity.
The Civic Aero deck set new levels of practicality without sacrificing the equally important qualities of driving enjoyment, comfort and refinement. It is this strong reputation and heritage, which has helped the Civic Tourer development team of 2013 to create a car that will exceed customer expectations and delivers class leading space.
"I was the Interior Project Leader for the Civic AeroDeck, it is undoubtedly a moment in my career that is frozen in my memory. The overall concept for the Civic Tourer remains the same as our concept for that car, we wanted to create a Wagon that had distinctive styling, class-leading utility and advanced technology, making it unique and strongly competitive in the market. That is exactly what I feel we have achieved with the Civic Tourer today." Adrian Killham, Large Project Leader, Civic Tourer.
Built in Europe, for Europe
Similarly to the Civic Aerodeck and the current Civic, the new Civic Tourer will be built at Honda's European manufacturing facility, Honda of the UK Manufacturing Ltd (HUM); established in 1985 in Swindon, UK. Honda is committed to manufacturing in the UK and the many awards won by the products built here demonstrate the plant's ability to produce high quality products for the European market.
HUM is a fully integrated car manufacturing facility, producing the whole car (casting, engine assembly, pressing, welding, painting and frame assembly) on one, 370 acre site (1.5 million m2) site. The 1.6 i-DTEC engine which features in the Civic Tourer is also built there, exclusively for the European market. Demonstrating the importance of this new diesel engine to Honda's sales plans in Europe, a new purpose-built diesel engine production line has been installed. This new line is capable of producing up to 500 diesel engines in one day. Operating on a two-shift pattern this equates to one engine every 138 seconds. The new line produces both the 1.6-litre i-DTEC and the 2.2-litre i-DTEC engines.
Market Opportunity
Honda has introduced the Civic Tourer as a response to changing European market conditions. The C-segment Wagon market has shown stability in recent years and is expected to grow in the future. The development team for the Civic Tourer conducted customer clinics in Europe before the development process began in order to confirm what was important to customers when choosing a Wagon. This research indentified two main target customer groups of the Civic Tourer; families raising young children upgrading from smaller categories and used car market and customers with children who have left home and who are downsizing from the traditional higher category.
Both customer types placed emphasis on the following characteristics:
・ Large trunk
・ Practical storage features
・ Roomy interior for the driver and passengers
・ Easy to maneuvere when parking
・ High level of dynamic performance and fuel efficiency
Furthermore, downsizers from the D-segment expected a high level equipment and comfort to be offered.
Dynamic STYLING & DESIGN
・ Echoes Civic 5-Door design but with its own distinct identity
・ Sophisticated and sporty design
・ Sleek Aerodynamics
The 2014 Civic Tourer shares much of the same DNA as the Civic 5-door model; with a sophisticated, aerodynamic body that creates a clean, dynamic and elegant look. It also inherits the same sporty and distinctive face as the updated 2014 Civic 5-door, with a new front bumper garnish in black. Similarly it retains the sleek cabin design and the integrated rear door handle found on the Civic 5-door, as well as the darker wheel arch garnish and new 17 inch Aluminum wheels finished in silver and black.
Despite its links to the Civic 5-door, the Civic Tourer also has its own design identity. The sophisticated, sporty and unique exterior design is defined by a bold line that runs continuously from the front A-pillar to the D-pillar creating the impression of a floating roof line.
The development team have concentrated on new ways to interpret the rear section of the car to deliver a premium feel. The glass of the rear quarter window has been extended to cover the body work of the D-pillar and the rear door sash has been raised by 17mm compared to the Civic 5-door, to form a bold styling line and create an elegant look.
"At first glance it is clear that the Civic Tourer does not look like other Wagons. Recently launched cars have tended to follow a similar style. The Civic Tourer has a different balance and appeal." Adrian Killham, Large Project Leader, Civic Tourer
Behind this sophisticated and sporty design is hidden versatility that offers clever functionality and unrivalled practicality. The Civic Tourer interior is sporty yet refined, carrying over the interior updates made to the recently updated Civic 5-door including white stitching detail that has been applied to the steering wheel, seat and knee pad. Black buttons feature on the audio panel and steering wheel switches and the air vents have new chrome coloured plastic surrounds.
As well as creating a unique profile for the Civic Tourer, achieving excellent aerodynamics was a priority for the development team. Aerodynamic efficiency is at the heart of the Civic 5-door design, and the Civic Tourer engineers have taken this on further by reducing aerodynamic drag through unique design features including the rear spoiler and side spoilers, allowing the Civic Tourer to emit just 99g/km* of CO₂.
For me, the strength of the car is the synergy of functionality, versatility, and dynamic expression." Adrian Killham, Large Project Leader, Civic Tourer
Class leading interior space AND VERSATILITY
・ Hidden versatility and unrivalled practicality
・ Class leading trunk space
・ Underfloor storage
・ Magic Seats
Behind the Civic Tourer's sophisticated and sporty exterior design is hidden versatility that offers clever functionality and unrivalled practicality.
Despite being only 235mm longer than the Civic 5-door, making it the most compact Wagon in the C-segment, the Civic Tourer offers class leading trunk space. With the rear seats up it offers 624 litres of trunk volume, up to the tonneau cover; accommodating three large suitcases with the cover pulled over. Alternatively, with the rear seats down, it offers 1668 litres of space up to the roof lining.
It's wide and low exterior hides one of the roomiest interiors of any C-segment car; offering 1431mm of shoulder room between driver and front seat passenger and 795mm of between driver and rear seat. The height and width of the Civic Tourer are identical to the Civic 5-door, although the slightly raised roofline of the Civic Tourer means more headroom in the rear for passengers.
Civic Tourer
Civic 5-Door
Dimensions LxWxH (mm)
4535/1770/1480*
4300/1770/1470
Luggage space Volume
Seats up, up to tonneau cover (Litres)
624*
477
Seats down, up to roof lining
(Litres)
1668*
1378
Load height (mm)
565*
702
*Honda internal figures
The Civic Tourer benefits from the same unique centre fuel tank layout used in the Civic 5-door. The fuel tank is located under the front seats allowing the Civic Tourer to offer unparalleled interior space and Honda's Magic Seat configuration.
Honda's unique Magic Seats deliver further practicality and space within the Civic Tourer, enabling a range of seating configurations for maximum versatility. The rear seat assembly folds down in one easy movement, and the interior trunk floor has been raised to create a completely flat area when the seats are folded down. The rear seat cushions can also be flipped up to reveal ample floor space for carrying tall objects. A 60:40 split in the seat base offers even more options for carrying both people and cargo, and provides an alternative load area if access via the tailgate is limited.
The Civic Tourer benefits from many practical solutions designed to make it even more convenient and functional. The tonneau cover is a conventional roll version which covers the load space in the trunk and can be removed and stored away. This is particularly useful when carrying objects that exceed the tonneau cover line.
"We call this a flexible tonneau cover, a small storage compartment is located below the level of the floor and in front of the bumper, the tonneau cover can be stored in this compartment but if in use other items like an umbrella can be stored". Adrian Killham, Large Project Leader, Civic Tourer
In the trunk, the Civic Tourer features the same underfloor compartment with its two-position sub lid as the Civic 5-door, however the floor of the Civic Tourer has been raised creating additional capacity in the underfloor box from 75 litres to 117 litres. This compartment can accommodate two flight cases with the lid up, or alternatively with the lid down to the lowest position, the under floor compartment can carry objects as tall as 1 metre.
Furthermore, the height of the loading lip has been lowered to match the level of the floor (565mm), making loading and unloading the trunk considerably easier.
| | | | | | | |
| --- | --- | --- | --- | --- | --- | --- |
| Wagon cargo loading dimensions (mm) | Civic Tourer | Ford Focus | Opel Astra | VW Golf | Skoda Octavia | Toyota Auris |
| Lift-in height | 565 | 590 | 625 | 642 | 640 | 611 |
| Max opening height | 744 | 761 | 737 | 674 | 690 | 708 |
| Max opening width | 1032 | 1089 | 1020 | 1030 | 1035 | 958 |
| Max cargo width | 1449 | 1160 | 1034 | 1270 | 1545 | 1460 |
Roof rails come as standard meaning that the roof carrier can be easily be engaged clamping neatly on to the roof rails.
RIDE, COMFORT & HANDLING
・ World 's first rear adaptive damper system on a production car
・ Real road testing
・ 'Mature Dynamics'
・ Secure high speed driving
The Civic Tourer is the world's first production car to feature a rear adaptive damper system. The newly developed rear adaptive damper system automatically adjusts the rear suspension damping force stiffness in a split second, based on driving conditions. This allows the car to remain comfortable during highway cruising, yet firm and agile when high-performance handling is required. The system has three settings – comfort, normal and dynamic – all of which have been developed to enhance stability and comfort under varying load and driving conditions.
The dampers also known as shock absorbers are equipped with a solenoid valve, which control the oil flow in the damper which controls the damping force. In order to achieve a consistent comfortable ride, the ECU control unit calculates the body movement by using the signals of the integrated 3-axis body sensors. In addition the ECU control unit uses the information supplied by the vehicle CAN bus system, and then controls the rear axle damping force, varying between soft and hard, by applying more or less current to the damper.
If the Comfort setting is selected, this creates a softer baseline for the dampers whereas the Dynamic setting creates a firmer baseline for the dampers resulting in a focus on a dynamic handling. Regardless of the setting that is selected the rear adaptive damper system will adjust the damping force according to driver input and driving conditions.
The rear adaptive damper system, first introduced on a production car has been specifically developed for the Civic Tourer customer in mind. The system ensures that it exceeds all C-segment usage types whilst allowing for the system to be accessible to as many customers as possible.
"By introducing the technology in this format, we expect many customers will be able to experience the benefits of this advanced system." Adrian Killham, Large Project Leader, Civic Tourer
With a focus on developing the new Civic Tourer for the European customer, extensive testing and real road tuning was carried out all over Europe taking into account the varied road surfaces, characteristics and speeds. The aim of the development team was to create predictable, comfortable and secure handling characteristics, known as 'Mature Dynamics'.
"We had a basic concept aim, and that concept aim is known as mature dynamics, the handling characteristics must be predictable, comfortable and secure. We wanted to deliver that quality feel with the exceptional ability to soak up bumps'.
John Hargreaves, Chassis Project Leader, Civic Tourer
The Civic Tourer carries over the same McPherson strut front suspension system and rear torsion beam used on the 5-door, but has undergone some small adjustments with significant benefits including fine tuning to the front damper settings to improve overall ride comfort.
Further refinement to the steering system via tuning of EPS system means the Civic Tourer is responsive and predictable steering on winding roads as well as at high speed, providing an accurate and confidence inspiring driving experience.
High speed stability was also a key focus of development, to add to the feeling of security. This was achieved by a high level of body stiffness with the addition of new rear quarter pillars and good rear aerodynamic lift balance with extensive tuning on visible parts such as the tail gate and rear window side spoiler and some non-visible such as undertray.
"We have modified parts of the vehicle to allow us to achieve a very good lift balance front and rear: almost zero front and rear lift, which is excellent for high-speed stability". John Hargreaves.
Efficient power trains
・ New generation power trains delivering CO₂ emissions from just 99g/km*
・ Choice of 1.6 i-DTEC or 1.8 i-VTEC engines
・ Efficiency-boosting technologies with idle-stop standard on manual model
Under the bonnet of the Civic Tourer customers will find either the new 1.6-litre i-DTEC diesel or the 1.8-litre i-VTEC petrol engine.
Lightest in class 1.6 i-DTEC engine
The new 1.6 i-DTEC diesel engine is the first from Honda's next generation Earth Dreams Technology series to be introduced in Europe. The philosophy behind Earth Dreams Technology is to deliver an impressive balance between fuel economy and driving performance, and this is certainly the case in the Civic Tourer. Lightest in class it delivers 300 Nm of torque and emissions from just 99g/km*.
Honda's new 1.6 litre i-DTEC is comprised of an aluminium cylinder head joined to an open deck aluminium block, weighing 47kg less than the 2.2 litre i-DTEC engine. All individual components have been redesigned to minimise their weight and size and advanced production techniques have helped reduce weight even further. The thickness of the cylinder walls have been reduced to 8mm, down from 9mm on the 2.2 litre i-DTEC. This is an exceptional achievement for a diesel engine. In addition, lighter pistons and connection rods have been utilised. The 1.6 i-DTEC engine is also offered on the latest CR-V and Civic 5-door models.
Tried and tested 1.8 litre i-VTEC engine
The Civic Tourer will also be offered with Honda's 1.8 i-VTEC engine in manual or automatic transmission, with CO₂ emissions starting from just 148g* per km. The 1.8 litre i-VTEC showcases Honda's VTEC technology and engine management systems. The engine is designed to function as part of a high quality, easy-to-handle powertrain. Starting is quick and easy, gear shifts are seamless and accelerator control is effortless and predictable. Acceleration and deceleration are always smooth and comfortable whether in the city or the suburbs. The same is true of acceleration and high-speed cruising on motorways.
Efficiency-boosting technologies with Idle Stop standard on manual model
The new Civic Tourer offers Honda's unique Eco Assist™ technology to help owners drive at optimum efficiency, based on insight that different driving styles can create as much as a 15 per cent variance in fuel economy. The system uses the car's speedometer to advise drivers how their driving style is impacting on fuel economy. If the car is being driven economically, the dashboard glows green. If the driver slightly exceeds the best level of throttle control, the dashboard will glow white/green. Finally, during heavy acceleration and deceleration, it will glow white. The system is further enhanced with the option of ECON mode, which once activated alters the mapping of the drive-by-wire throttle system to ensure a smooth increase in torque for a more relaxing drive and greater fuel efficiency.
To further enhance efficiency Idle Stop technology is standard on all Civic Tourer models with a manual transmission; a seamless system which can contribute up to a 5 g/km of CO₂ saving for the diesel engine. When the driver reaches a standstill and selects neutral, the engine will automatically stop when they release the clutch. Then it automatically restarts when they depress the clutch to select a gear. A display on the dashboard indicates the operation of Idle Stop, and the system can be disabled with a button on the fascia.
1.6 i-DTEC
(MT)
Comfort grade

1.8 i-VTEC
(MT)
Comfort grade

1.8 i-VTEC
(AT)
Comfort grade

ENGINE

4-valves per cylinder

Bore x stroke

mm

76×88

81 x 87.3

Capacity

cc

1597

1798

Compression ratio

16

10.6

Max. power (Engine)

kW/PS

88 / 120

104 / 142

@ rpm

4000

6500

Max. torque (Engine)

Nm

300

174
@ rpm

2000

4300
Fuel rating

Diesel

Unleaded 95

Maximum Speed
km/h

195

210

205

Acceleration
0 → 100 km/h

10.1

9.2

10.9

Fuel Consumption
Urban cycle
l/100km

4.2

7.7

8.9

Extra urban
l/100km

3.6

5.3

5.2

Combined
l/100km

3.8

6.2

6.5

CO₂
g/km

99

146

153
COMPREHENSIVE SAFETY
・ 'Safety for Everyone'
・ All round safety, everyday
・ New features: Advanced Driving Assist Systems
・ Other active & passive safety features
'Safety for everyone'
Honda's commitment to safety is embodied by the term 'Safety for Everyone'; safety for drivers, passengers, pedestrians and occupants of all vehicles. Honda achieves this through a range of both passive and active safety features, which aim to prevent or mitigate accident and injuries.
The Civic Tourer features the full list of safety technologies available on the Civic 5 door, allowing it to carry the same coveted five-star Euro NCAP rating for Safety.
All round safety, everyday
As with all Honda cars, safety was at the forefront of the development team's mind when designing the Civic Tourer, particularly the integration of active safety systems known as Advanced Driving Assist Systems. As such, the Civic Tourer benefits from a new suite of advanced active safety features designed to offer all round safety, everyday. These technologies aim to ensure that safety is affordable and accessible to customers within the C-segment.
Whether dropping children to school in the suburbs, moving across a busy city or travelling on the highway, Honda's safety technology systems are hard at work, helping to prevent accidents wherever possible and, when an accident is unavoidable, working hard to mitigate the impact.
New features: Advanced Driving Assist Systems
Honda has introduced a new suite of sensor based active safety systems on the Civic Tourer that use a combination of cameras, short range lidar (Laser Radar) and radar technologies. The Civic Tourer utilises these technologies and many other advanced safety features to deliver a high standard of safety in all conditions, giving drivers and passengers complete piece of mind.
Blind Spot Information
Blind Spot Information uses radar technology to automatically detect vehicles in the driver's blind spot and warn of potential dangers when the vehicle is travelling at speeds of more than 20km/h. The system is designed to detect cars and trucks and can help to support drivers in situations such as passing other vehicles and merging or changing lanes.
When a vehicle enters the driver's blind spot a visual warning is displayed on the wing mirror. This remains until the vehicle leaves the blind spot. If the driver operates the indicator whilst the vehicle is in the blind spot, the visual warning will blink and an audible warning will sound to further alert the driver to the potential danger. The system can be turned off by the driver when the vehicle has stopped.
Cross Traffic Monitor
Honda's Cross Traffic Monitor system uses rear side radar sensors to warn the driver of approaching vehicles when reversing. The direction of an approaching vehicle is shown either on the rear-view camera screen or displayed using arrows showing the direction of the travelling vehicle on the i-MID and an audible warning sound. The system is designed to detect cars and trucks travelling up to 25km/h, and can be turned off by the driver when the vehicle has stopped.
Adaptive Cruise Control**
Adaptive Cruise Control allows the driver to choose both their speed and distance from the vehicle ahead. If this falls below the set level, the system instantly decelerates the vehicle. Where quicker deceleration is required the system will alert the driver to apply the brakes using visual and audible warnings.
Collision Mitigation Braking System**
This system monitors the following distance and closing rate between the car and the vehicle (car or truck) directly in front of it, warning the driver when a collision is likely and helping reduce impact speed when a collision becomes unavoidable.
* Available on selected Grades
** City-Brake Active System and Collision Mitigation Braking System/ Adaptive Cruise Control are not available in conjunction with each other.
OTHER SAFETY FEATURES
The Civic Tourer also features a wide range of active safety features that are available on the current Civic 5-door. These include:
Vehicle Stability Assist (VSA)
Vehicle Stability Assist (VSA) is designed to assist the driver in maintaining control during cornering, acceleration and sudden manoeuvres by applying braking assistance to any of the wheels as necessary and modulating the engine torque output as required.
Anti-lock Braking System (ABS) and Emergency Stop System (ESS)
The Civic Tourer is equipped with ABS, controlled by a compact and lightweight VSA modulator. It is complemented by Electronic Brake force Distribution (EBD), which adjusts front-to-rear brake effort to achieve maximum braking performance and stability based on the vehicle's speed.
This is supplemented by the Emergency Stop System (ESS), which automatically activates the brake and hazard warning lights (indicators) when it detects an emergency stop situation. The lights blink rapidly to warn following vehicles that the vehicle is stopping abruptly, reducing the risk of collision.
Advanced Compatibility Engineering™ (ACE™) body structure
Developed in the car-to-car crash testing facility at Tochigi, the ACE™ body structure is now a well-established strength of Honda's safety credentials. The ACE™ body structure provides significantly enhanced occupant protection in a variety of real-world crash conditions. A front-mounted polygonal main frame is designed to prevent cabin deformation by distributing forces through multiple major load bearing pathways – and away from the passenger compartment. Additionally, it helps to minimise the potential for under- or over-ride situations, this is particularly important where a frontal collision occurs between vehicles of differing heights, weights or frame construction.
The ACE™ body structure is a Honda exclusive body design that enhances occupant protection and crash compatibility in frontal collisions. The design utilises a network of connected structural elements to distribute crash energy more evenly throughout the front of the vehicle. This enhanced frontal crash energy management helps to reduce the forces transferred to the passenger compartment and can help to more evenly disperse the forces transferred to other vehicles in a crash.
Pedestrian Injury Mitigation Design
The new Civic Tourer features sophisticated pedestrian protection features. Research shows that these features can dramatically improve a pedestrian's chance of survival if struck by a moving vehicle. Features include windscreen wiper pivots designed to break away on impact, energy absorbing front wing mounts and bonnet hinges, as well as an unobstructed area beneath the bonnet allowing greater space for deformation.
Seatbelts
The Civic Tourer is fitted with three-point Emergency Locking Retractor (ELR) seatbelts in all seating positions. The front seatbelts also have two-stage Energy Absorption (EA) load limiting pre-tensioners. In the rear, ISOFIX points ensure secure and correct installation and mounting of child seats.
For further peace of mind the Civic Tourer also features an innovative seatbelt reminder system for passengers.
Once the engine is started a weight sensor detects whether the front passenger seat is occupied. If the driver or front passenger has not already fastened the seatbelt, an icon in the cluster illuminates and a chime sounds as a reminder to do so.
On all models the driver and passenger Supplemental Restraint System (SRS) front and side airbags are complemented by full length curtain airbags to protect all occupants.
ACCESSORIEs
・ Variety of accessory packs and single options to suit owners style and needs
・ Useful technologies including touchscreen navigation
・ Utility options to enhance versatility
New Civic Tourer customers can choose from a wide variety of accessory packs and single options to personalise their car to suit their style, needs and preferences.
ACCESSORY PACKS
Sports Pack
For a more focused, road-holding look, the front, side and rear skirts come in a carbon-inspired finish to give an extra edge to the car's dynamic profile. The look can be further enhanced with a set of optional 18" Hydrogen alloys, diamond cut, finished in a matte clear coat and featuring Rombo Silver windows.
Cargo Pack
Perfect for those frequently transporting luggage or specialised equipment, this pack offers a unique combination of storage solutions including a separation net, cargo room garnish, a trunk side net and a trunk tray with dividers; which also further the Civic Tourer's class-leading load area.
Convenience Pack
A bespoke collection of accessories designed to protect the car from weathering and surface wear and tear. Features include doorstep garnishes, mudguards and body-coloured side body trims to protect against scrapes, mud and sand, plus the option of 17 inch Cobalt alloy wheels.
Aero Pack
A blend of aesthetic benefits including a front Aero bumper which reflects the car's sporty look, while the rear skirt complements the front bumper perfectly. The look can be further enhanced with the option of five-spoke 17 or 18 inch Argon alloy wheels in a diamond cut surface with a matte clear coat, contrasted by Gun Powder Black windows.
Design Pack
A wide range of stylish design details to personalise the Civic Tourer, including a tailgate decoration, sports tank lid, door mirror covers, air intake garnishes and a front sports grille, all in a matte metallic finish. Optional 18 inch Krypton alloy wheels can be added for further stand-out appeal.
SINGLE ACCESSORIES
Useful technology
Civic Tourer customers have the option of Honda SD navigation. With a 6.1-inch WVGA touchscreen, the system offers full functional navigation with voice commands and menus in 12 different languages. The multi-sensor navigation system accurately pinpoints your position, whilst the maps cover 34 different EU countries and can be updated via SD card. The system features Bluetooth HFT connectivity with integrated microphone and audio streaming.
Additionally, front and rear parking sensors are available, to make parking safe and effortless.
Alloy wheels
Owners have the option of five alloy wheel designs:
・ 'Argon' – 17 or 18 inch, featuring a Diamond cut A surface, matte clear coat and GunPowder Black windows
・ 'Cobalt' – 17 inch, featuring a full coat Chrome Shadow with a clear coat
・ 'Radium' – 17 inch, combining a Diamond cut A surface with a clear coat and Rombo Silver windows
・ 'Hydrogen' – 18 inch, featuring Rombo Silver Windows and a carbon-look centre cap
・ 'Krypton' – 18 inch, featuring Diamond cut A surface with a clear coat, black pearl windows and a carbon-look centre cap
Utility accessories
Several utility accessories are available to further enhance the versatility of the new Civic Tourer. One option is a fixed or detachable trailer hitch to match the car's bodywork; adding practicality and making the most of towing capacity. The detachable version features a foldable socket plate which is out of sight when not in use.
Additionally, roof cross bars together with a choice of attachments allow owners to carry everything from skis to bicycles and extra luggage, creating more space and comfort for passengers. The option of a dog guard will keep luggage and pets safe and secure within the boot. Made from powder-coated durable steel, it can be easily fitted and removed.
Finally, for an additional aesthetic touch, a tailgate decoration, available in either black or matte metallic silver, fits under the lower rear window and partly covers the car's tailgate.
For further information, please visit www.honda-accessories.eu
SPECIFICATIONS
1.6 i-DTEC
(MT) Comfort grade

1.8 i-VTEC
(MT)
Comfort grade

1.8 i-VTEC
(AT)
Comfort grade

ENGINE
4-valves per cylinder
Bore x stroke
mm
76×88
81 x 87.3
Capacity
cc
1597
1798
Compression ratio
16
10.6
Max. power (Engine)
kW/PS
88 / 120
104 / 142
@rpm
4000
6500
Max. torque (Engine)
Nm
300
174
@rpm
2000
4300
Fuel rating
Diesel
Unleaded 95
Maximum Speed
km/h
195
210
205
Acceleration
0 → 100 km/h
10.1
9.2
10.9
Urban cycle
l/100km
4.2
7.7
8.9
Extra urban
l/100km
3.6
5.3
5.2
Combined
l/100km
3.8
6.2
6.5
CO₂
g/km
99
146
153
DRIVETRAIN
Transmission type
Manual
Manual
Automatic
Gear ratios
1st
3.642
3.142
2.666
2nd
1.884
1.869
1.534
3rd
1.179
1.303
1.066
4th
0.869
1.054
0.76
5th
0.705
0.853
0.551
6th
0.592
0.727
–
Reverse
3.673
3.307
1.956
Final Drive Ratio
3.571
5.333
4.437
Overall length
mm
4535
Overall width (without door mirrors)
mm
1770
Overall height (inclusive of antenna)
mm
1480
Wheelbase
mm
2595
Ground clearance
mm
145
Luggage space

(Seats up, up to tonneau cover)

litres
624*
Trunk Capacity – Rear Seat Down Load to Window (litres, VDA method)
litres
1116*
Luggage space

(Seats down, up to roof lining)

litres
1668*
Kerb weight
kg
1337 – 1430
1280 – 1340
1313 – 1380
Max. permitted weight
kg
1890
1790
1830
Max. Towing Weight braked/unbraked
kg
1400 / 500
1400 / 500
1000 / 500
Fuel tank capacity
litres
50
*VDA volume (from floor to window)dr
Specifications are internal Honda data and can be different in each market