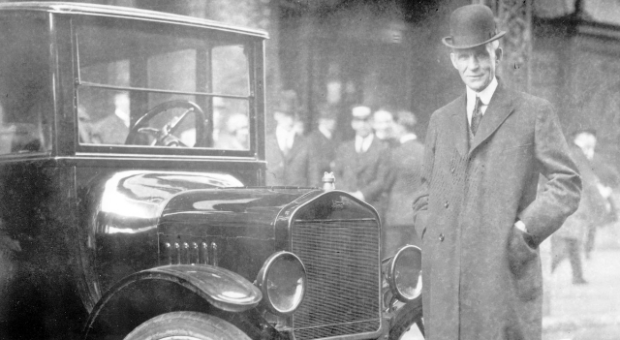 150th Anniversary of Henry Ford's Birth Celebrated Around the World
Henry Ford (July 30, 1863 – April 7, 1947) was an American industrialist, the founder of the Ford Motor Company, and sponsor of the development of the assembly line technique of mass production. Ford did not invent the automobile, but he developed and manufactured the first automobile that many middle class Americans could afford to buy. His introduction of the Model T automobile revolutionized transportation and American industry.
As owner of the Ford Motor Company, he became one of the richest and best-known people in the world. He is credited with "Fordism": mass production of inexpensive goods coupled with high wages for workers. Ford had a global vision, with consumerism as the key to peace. His intense commitment to systematically lowering costs resulted in many technical and business innovations, including a franchise system that put dealerships throughout most of North America and in major cities on six continents. Ford left most of his vast wealth to the Ford Foundation and arranged for his family to control the company permanently.
Henry Ford's introduction of the automobile into the mass market transformed agricultural economies in the United States and around the world into prosperous industrial and urban markets. Many historians credit him with creating a middle class in America. His high minimum wage – revolutionary at the time – set a precedent for fair distribution of company wealth that influenced later management practices.
Henry Ford initially struggled to get Ford Motor Company on solid financial footing, but broke through with the Model T. The iconic vehicle debuted in October 1908, opening a new era in America. More than 15 million Model T's were built and sold as Ford Motor Company put the nation on wheels.
Ford Motor Company's History
Henry Ford with Thomas Edison and Harvey Firestone. Fort Myers, Florida, February 11, 1929.
In response, Malcomson brought in another group of investors and convinced the Dodge Brothers to accept a portion of the new company.
Ford & Malcomson was reincorporated as the Ford Motor Company on June 16, 1903, with $28,000 capital. The original investors included Ford and Malcomson, the Dodge brothers, Malcomson's uncle John S. Gray, Malcolmson's secretary James Couzens, and two of Malcomson's lawyers, John W. Anderson and Horace Rackham. Ford then demonstrated a newly-designed car on the ice of Lake St. Clair, driving 1 mile (1.6 km) in 39.4 seconds and setting a new land speed record at 91.3 miles per hour (147.0 km/h).
Convinced by this success, the race driver Barney Oldfield, who named this new Ford model "999" in honor of the fastest locomotive of the day, took the car around the country, making the Ford brand known throughout the United States. Ford also was one of the early backers of the Indianapolis 500.
Henry Ford's spirit of innovation continues to guide Ford Motor Company today, reflected in a lineup of vehicles as diverse as the F-150 pickup, Mustang sports car and Fusion Hybrid sedan. It lives on in technologies such as Ford SYNC, the company's in-vehicle infotainment system, and fuel-efficient EcoBoost engines. And it echoes through employees serving customers across six continents.
About Ford Motor Company
Ford Motor Company, a global automotive industry leader based in Dearborn, Mich., manufactures or distributes automobiles across six continents. With about 177,000 employees and 65 plants worldwide, the company's automotive brands include Ford and Lincoln. The company provides financial services through Ford Motor Credit Company.
Today marks the 150th anniversary of the birth of Henry Ford, whose innovative ideas revolutionized transportation and brought mobility to the masses. Henry Ford's enduring impact is being recognized through events and declarations across the United States and around the world.
Celebrations at Ford Motor Company's Dearborn headquarters today are being complemented by a special proclamation by the state of Michigan declaring this "Henry Ford Day." In Washington, D.C., hundreds downtown and on Capitol Hill will mark the day enjoying commemorative cupcakes delivered by a food truck – part of a mobile movement Henry Ford would support.
While today's events mark the day of Henry Ford's birth, they are just part of a yearlong celebration of the man and his achievements.
Appropriately, given Henry Ford's global impact, the anniversary of his birth is being commemorated in countries around the world throughout 2013