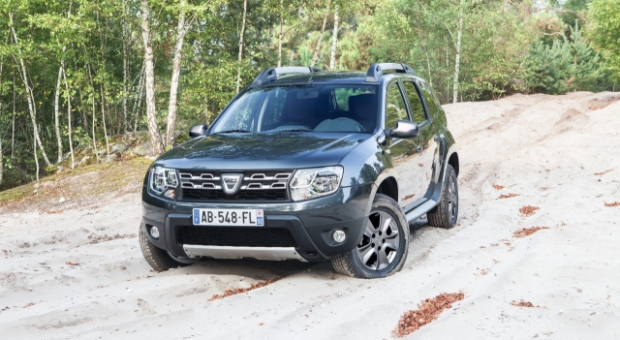 2013 All-new Dacia Duster
Dacia will presents on the occasion of the 65th edition of the Frankfurt Motor Show, the all-new Dacia Duster. The evolving minor marks on exterior design, emphasizing its valences 4×4.
The upgraded New Dacia Duster builds on the the styling features which have contributed to its phenomenal success, while taking on more emphatic 4×4 design cues. The front end has been upgraded, with a redesigned grille, adorned by two chrome-plated strips and housing a new, lower-set air intake and new double-optic headlights with daytime running lights. The upgrades underscore the car's on-road stance and robust, "go-anywhere" character.
Moving further upmarket, New Dacia Duster comes with four new upholstery choices, including leather.
Comfort has been enhanced through new-design seats and a reinforced rear bench seat back. The darker cabin colors emphasize the strong character of New Dacia Duster and its sound 4×4 credentials.
The TCe 125 petrol engine is making its debut on New Dacia Duster. The TCe 125, a four-cylinder 1.2 liter direct-injection turbo, offers 90% of maximum torque from just 1,500 rpm. The new powerplant is high-performance and economical, with low running costs. Fuel consumption is a frugal 6.0 l5/100km, while the lifetime-lasting timing belt is maintenance-free. The TCe 125 is mated to a six-speed manual gearbox The 105 hp, 16V 1.6-liter engine still powers 4×2 and 4×4 models and in some countries is available in a petrol-CNG version for lower running costs. New Dacia Duster is available with two versions of the 1.5 dCi powerplant, with 90 hp or 110 hp.
New Duster-labeled roof bars with slatted supports underline the car's SUV character, while new 16-inch "Dark Metal" alloy wheels and "Mud and Snow" tires revitalize the profile of New Dacia Duster. At the back, new lights echo the styling cues of the front end, notably though the use of chrome. A chrome-plated tailpipe and new "4WD" lettering round out the exterior styling changes and further boost the car's personality.
Duster, Dacia's first SUV was launched in 2010.