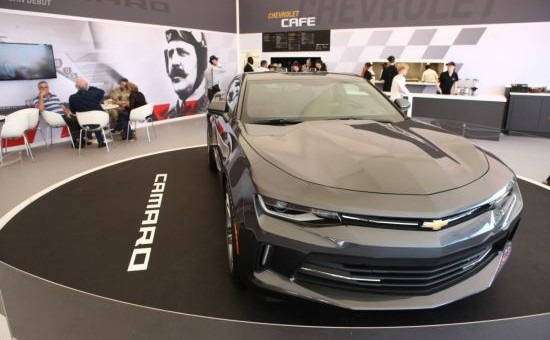 All-new Camaro makes European debut at Goodwood Festival of Speed
To celebrate its return to the Goodwood Festival of Speed, Chevrolet has shipped a surprise from across the Atlantic for its European debut – the 2016 Chevrolet Camaro!
The sixth-generation Chevrolet Camaro revealed today, tested and tuned on more than eight tracks around the world as well as on the Autobahn, offers higher levels of performance, technology and refinement and is designed to play an important role in the sporty car segment where it has earned the leadership position over the past five years in the US where it will go on sale later this year.
In Europe, it will become available in Spring/Summer 2016 as an LT and V8 model. Prices and final technical specifications will be published closer to launch.
New Chevrolet Camaro Tested and Tuned on Eight Tracks, and the Autobahn
The Gen Six Camaro provides a faster, more nimble driving experience, enabled by an all-new, lighter architecture and a broader powertrain range.
In Europe, three all-new powertrain combinations are offered, including a 2.0L Turbo and the LT1 6.2L V-8, which is SAE-certified at 455 horsepower (339 kW) and 617 Nm (455 lb-ft) of torque – for the most powerful Camaro V8 officially distributed in Europe ever. The 2.0L Turbo and the V8 are both featuring an eight-speed automatic transmission, the V8 is also available with a six-speed manual.
Camaro's leaner, stiffer platform and slightly smaller dimensions are accentuated by a dramatic, sculpted exterior. Meticulously tuned in the wind tunnel, the exterior contributes to performance through reduced aerodynamic lift for better handling while enhancing efficiency.
A driver-focused interior integrates class-leading control technologies, including a new Driver Mode Selector, configurable instrument cluster and a customizable ambient lighting feature.
To make it not only the best Camaro ever, but one of the best performance cars available, Chevrolet focused on three pillars of development:
Performance
◾Vehicle mass has been reduced by 90 kg (200 pounds) or more, depending on the model, creating a more nimble, responsive driving experience
◾Most efficient Camaro ever, with a new 2.0L turbo SAE-certified at 275 hp (205 kW) and 400 Nm (295 lb-ft )– with an estimated (GM) consumption of less than 8 l/100 km (equivalent to more than 30 US mpg) on the highway, 0-100 km/h acceleration is expected to be reached in 6 seconds (0-60 mph in under 6 seconds)
◾The most powerful Camaro V8 officially distributed in Europe ever, with a new 6.2L LT1 direct-injected Small Block V-8 rated at 455 hp (339 kW) and 617 Nm (455 lb-ft) of torque
◾Magnetic Ride Control active suspension available on Camaro V8 for the first time
Technology
◾All-new Drive Mode Selector, which tailors up to eight vehicle attributes for four modes: Snow/Ice, Tour, Sport and – on V8 models – Track settings
◾Segment-exclusive, Interior Spectrum Lighting that offers 24 different ambient lighting effects on the dash, door panels, and center console
◾High-definition, configurable color displays – including dual, 8-inch-screens.
Design
◾More athletic-looking, sculptured exterior that complements the tighter, leaner architecture – and offers all-new, modern lighting signatures, including light-emitting diode (LED) technology
◾Greater emphasis on customer personalization with wider range of choices, including 10 exterior colors, five interior color combinations, wheels and stripe packages available at launch
◾Aerodynamically optimized design that is the result of 350 hours of wind tunnel testing, reducing drag on LT models and improving downforce on V8
◾All-new interior with shifter-focused center console, intuitive controls, flat-bottom steering wheel, and higher quality materials throughout
◾Unique control rings around the air vents used for temperature and fan speed adjustments, eliminating the need for conventional buttons
Lightweight architecture and chassis systems
Approximately 70 percent of the architectural components are unique to Camaro. Through extensive computer-aided engineering, structural rigidity was increased by 28 percent, while the body-in-white mass was reduced by 60.5 kg (133 pounds).
In their quest to make the 2016 Camaro as lean as possible, engineers and designers evaluated every aspect of its architecture – already the most mass-efficient ever created by GM – and supporting elements, saving grams here and pounds there that contributes to the car's lower curb weight.
As a result, the total curb weight for Camaro has been reduced by more than (90 kg) 200 pounds.
Significant weight savings came from using an aluminum instrument panel frame instead of steel, which saved 4.2 kg (9.2 pounds). The use of lightweight components, including aluminum front suspension links and steel rear suspension links with lightening holes, in the new five-link rear suspension system contributed to a 12 kg (26-pound) reduction in the overall suspension weight.
With the lighter, stiffer architecture and more powerful engines, the Gen Six Camaro V8 delivers better lap times than the fifth-generation.
The Camaro features a new, multi-link MacPherson strut front suspension with Camaro-specific geometry.
The double-pivot design provides a more precise feeling of control, including more linear and communicative feel from the quick-ratio electric power steering system. At the rear, a new five-link independent suspension yields outstanding wheel control and reduces "squat" during acceleration.
In addition, the Magnetic Ride Control is available on the Camaro V8 for the first time. The active suspension reads road and driving conditions 1,000 times per second, and automatically adjusts the damper settings to optimize ride comfort and control.
On Camaro LT, the brakes include 320 mm (12.6-inch) front rotors with four-piston calipers and 12.4-inch (315 mm) rear rotors with single-piston sliding calipers. Camaro V8 models offer standard Brembo brakes that are optimized for the car's mass and performance capability. They employ 345 mm (13.6-inch) front rotors with four-piston fixed calipers in the front and 338 mm (13.3-inch) rear rotors with four-piston fixed calipers in the rear.
In Europe, both the Camaro LT and V8 feature standard 20-inch aluminum wheels.
Source: Opel & Chevrolet