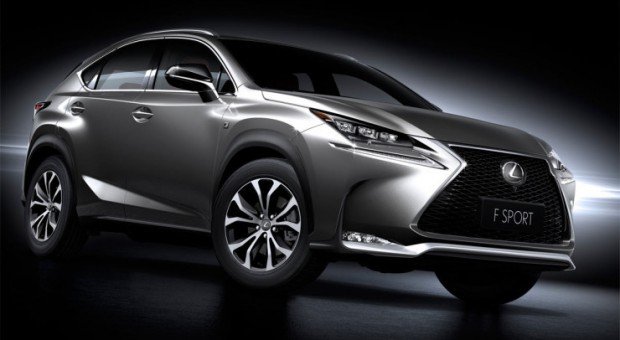 All-New Lexus NX Compact Luxury-Utility Combines Breakthrough Design and Choice of Turbo or Hybrid Power
Lexus created the luxury-utility crossover category with the original midsized RX model in 1998 and is now poised to disrupt the growing compact segment with the all-new 2015 NX. Inspired by performance vehicles, the 2015 NX unites the engineering input of racers with the impeccable touch of Lexus luxury in a design that steals the show.
Following in the tire tracks of the new-generation Lexus GS and IS sedans, the 2015 NX brings dramatic design to a segment populated by boxy offerings. The boldest interpretation yet of the signature Lexus spindle grille and L-finesse design envelops a platform engineered by a team that includes active racers.
The 2015 Lexus NX debuts in two versions, the NX 200t with a turbocharged 2.0-liter four-cylinder engine and the NX 300h hybrid, which brings the brand's number of hybrid offerings to six, the most among luxury brands. The hybrid offers a real driving kick, thanks to a new transmission with a kick-down function. The racers on the team insisted on splitting the hybrid battery into two separate pods for better weight distribution; with the benefit of more efficient use of cabin space.
Both NX models offer their own version of pro-active all-weather drive (AWD).
Looking more sports-car than sport-utility, the 2015 NX's cabin is bristling with new, onboard, standard and available technology, including a Lexus-first Wireless Charging Tray for compatible phones and devices; the new Lexus Remote Touch Interface (RTI) with a touch pad; and a comprehensive Multi-information Display that features a Lexus-first G-Force meter and boost gauge.
The 2015 Lexus NX debuts with freedom of choice: two powertrain choices, each with front-wheel drive or all-weather drive:
(1) an all-new 2.0-liter, 235-horsepower turbo gasoline engine, the brand's first turbo gasoline engine, is matched to a new six-speed automatic transmission.
(2) In the NX 300h hybrid, a 2.5-liter Atkinson-cycle gasoline engine has a new automatic transmission with a unique kick-down feature.
In the NX 200t, the available Dynamic Torque Control AWD system can instantly vary front and rear torque split between 50:50 and 100:0 for optimum traction and fuel economy. The NX 300h hybrid offers the Lexus E-Four AWD system with an electric motor to drive the rear axle when required.
The F SPORT badge on a Lexus tells you to expect a special driving experience. That's certainly the modus operandi of the NX F SPORT, which looks a bit sinister with its more aggressive grille and front lower bumper. Special wheels, black exterior mirrors and exclusive interior trim and front sport seats round out the package.
For its first-ever turbocharged gasoline engine, Lexus created an all-new engine architecture. The 2.0-liter turbocharged port and direct-injection engine uses an advanced valve control system to switch between Atkinson cycle and Otto cycle operation to optimize performance and fuel efficiency.
To minimize turbo lag, the four-into-two exhaust manifold system pairs cylinders according to their expansion or compression stroke to reduce pumping losses and eliminate exhaust gas interference. This results in improved acceleration response and wide torque band. The turbo engine produces 235 hp at 5,600 rpm with 258 lb.-ft. of torque from 1,650-4,000 rpm and up to 17psi of boost at wide open throttle. A balance shaft enhances smoothness.
---
Source, please read more.