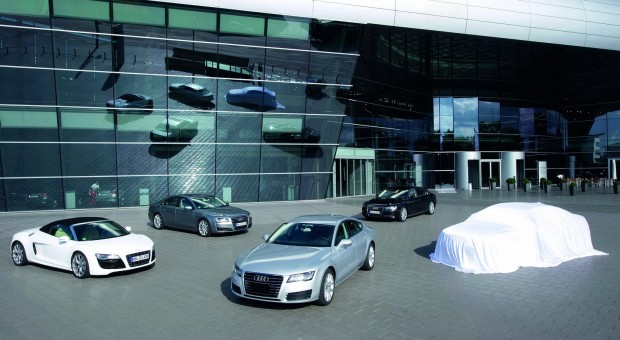 Audi achieves 43rd consecutive record month of U.S. sales in July
Audi reported that its July 2014 sales increased 11.9% to 14,616 vehicles, a total that stands as the 43rd consecutive month of record monthly U.S. sales for the brand. Audi U.S. sales year-to-date increased 13.3% to 98,965 vehicles.
Audi has maintained steady momentum throughout 2014, with the best-ever July results following record sales for the first half of the year. The previous July record was set in 2013 with sales of 13,064 vehicles. To date, 2014 has produced four of the six best U.S. sales months for the premium car brand.
Highlights:
– The all-new 2015 Audi A3 sedan models officially went on sale this spring, with 9,899 cars sold since launch.
– Sales of Audi premium category vehicles (Audi A6, Audi A7, Audi A8, and Audi Q7) increased 13% year-to-date, representing 32.2% of total Audi sales year-to-date and 32% of the Audi year-to-date sales gain.
– Sales mix for Audi S performance variants finished the month at 18.5% for the S4 sedan; 32% for the S5/ RS 5; 5.5% for the S6; 22.4% for the S7 / RS 7; 15.1% for the S8; 34.7% for the TTS and TTS Roadster, and 7.7% for the SQ5 crossover.
– Sales of Audi A8 increased 11.3% compared to July 2013
– Sales of the Audi Q5 increased 0.4% compared to July 2013 due mostly to tight supplies; YTD sales grew 7.6% compared to previous period.
– Sales of the Audi Q7 increased 8.9% compared to July 2013; YTD sales grew 24.9% compared to previous period.
– July sales mix for Audi TDI models: Audi A6 TDI at 18.8%; Audi A7 TDI at 14.7%; A8 TDI at 10.7%; Audi Q5 TDI at 14.2%, Audi Q7 TDI at 24.1%, with an overall mix of 13.3% on 1,298 total TDI sales for July.
– Audi Certified pre-owned sales increased 26.6% to 4,116 vehicles in July; YTD CPO sales rose 15.6% to 25,943 vehicles sold.
After its April U.S. sales debut, the 2015 Audi A3 Sedan has maintained a strong and consistent sales pace. July 2014 brought 2,164 A3 sales to solidify the model's standing among the top three of the brand's best sellers.
July totals for the top-of-the-range Audi models kept pace, constituting nearly one-third of all Audi sales. Audi A8 demand increased 11.3% for the month as customers responded well to the updated 2015 model line. Audi Q7 YTD sales increased by 8.9%.
July is the 12th consecutive month of record sales for Audi Certified pre-owned. It also marks the second highest monthly total of all-time with an increase of 26.6%, to a total of 4,116 CPO vehicles sold; CPO sales year-to-date increased 15.6 %.
---
Source, please read more.