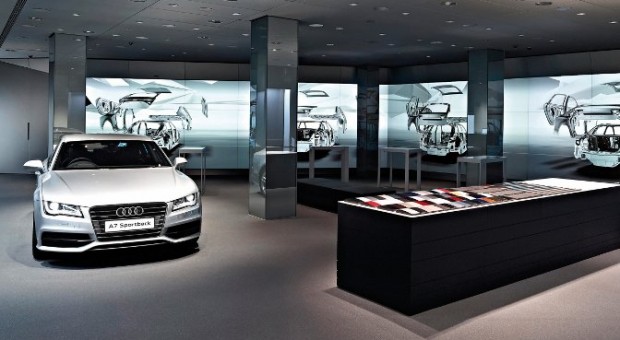 AUDI US: Audi establishes U.S. sales record of 158,061 vehicles sold in 2013Audi establishes U.S. sales record of 158,061 vehicles sold in 2013
Audi establishes U.S. sales record of 158,061 vehicles sold in 2013
Audi achieved its fourth-consecutive year of record U.S. demand by recording full-year sales of 158,061, a 13.5% increase over the previous annual record set a year earlier.
In addition, Audi set an all-time monthly sales record in December 2013 with sales of 17,013 new models, a 14.6% improvement over the previous monthly sales record set in December 2012. The most recent month also stands as the first time Audi monthly sales have ever topped 15,000 vehicles. December 2013 was also established the 36th consecutive monthly sales record for Audi in the U.S. market.
December results were bolstered by sales of Audi luxury SUVs, with a record month for the Audi Q5 crossover posting a 32.2% gain in December with 4,794 units delivered for the month. Sales of the Audi Q7 increased 52.6% to 2,279 vehicles sold for the month. Year-to-date sales for the Audi Q5 increased 40.8% to a total of 40,355 vehicles sold for the year, while YTD sales for the Audi Q7 increased 45.1% to a total of 15,978 vehicles.
Through December, sales of the Audi A6, A7, A8 and Q7 made up one of every three models the brand sold. That compares to a 19% mix for the most exclusive models just four years ago.
Luxury sedan sales remain strong as the Audi A6 increased 43.3% to 2,686 vehicles sold for the month, while YTD sales increased 18.1% to 22,428 vehicles sold.
There has been high demand for the updated 2014 Audi R8 models, including the Audi R8 V8, Audi R8 V10 and Audi R8 V10 plus. Customers have responded well to the changes in the vehicle's transmission showing an increase of sales to 37.3% MTD.
AUDI AG: More than 1.5 million automobiles delivered to customers
A special moment for the brand with the four rings: Today, the 1.5 millionth Audi since the beginning of the year was handed over to its owner at the Audi Forum Ingolstadt. This means that AUDI AG has achieved its sales target, set for 2015, two years earlier than planned. Rupert Stadler, Chairman of the Board of Management of AUDI AG, and sales chief Luca de Meo personally handed a customer from Germany the keys to the anniversary vehicle: an Audi A3 Sportback.
With over 1.5 million deliveries in 2013, AUDI AG will have doubled its global sales within a single decade. In 2003, Audi sold around 769,900 cars annually.
The company recently achieved record figures for the 47th month in a row since January 2010. The brand's global sales currently exceed the previous record set in 2012 by 7.4 percent.
---
Source 1 & Source 2 – Audi, please read more.