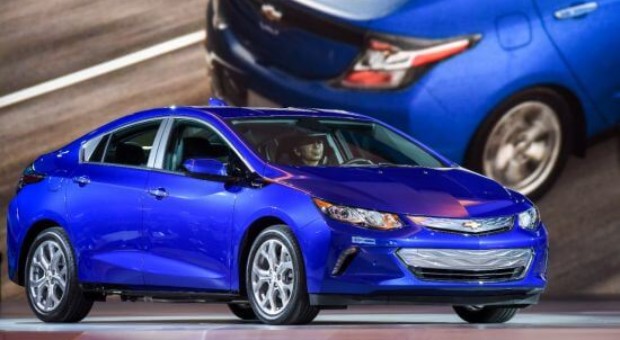 Chevrolet Introduces All-New 2016 Volt
Chevrolet today unveiled the all-new 2016 Volt electric car with extended range, showcasing a sleeker, sportier design that offers 50 miles of EV range, greater efficiency and stronger acceleration.
The Volt's new, efficient propulsion system will offer a General Motors'-estimated total driving range of more than 400 miles and with regular charging, owners are expected to travel more than 1,000 miles on average between gas fill-ups.
The 2016 Chevrolet Volt's technology and range advancements are complemented by a design that blends sculpted, muscular proportions with aerodynamic efficiency, and an all-new interior with seating for five and improved functionality.
Everything from charging the battery and checking the charge status, to the intuitiveness of instrument panel controls were designed for easier use.
The 2016 Volt has an all-new, muscular design that incorporates Chevrolet performance vehicle DNA inspired cues refined in the wind tunnel.
New features, including active grille shutters, help balance design with efficiency.
Volt's flowing, dynamic shape is inspired by the toned physiques of athletes and even the natural shapes of wind-swept sands, with carved body sides and fenders that blend into the hood. The front-end appearance retains the iconic Volt identity, with bright upper and lower grille pads.
Greater attention to detail in the design cues, materials and colors also lends a more premium, contemporary aura to its appearance. It also retains the distinctive Volt signature on the upper front doors, carrying over one of the first-generation model's identifiers.
GM's industry-leading battery technology has been reengineered for the next-generation Volt. The 2016 Volt will use an 18.4 kWh battery system featuring revised cell chemistry developed in conjunction with LG Chem. While overall system storage capacity has increased, the number of cells have decreased from 288 to 192 as the result of a revised chemistry. The cells are positioned lower in the pack for an improved (lower) center of gravity and the overall mass of the pack is 21 pounds (9.8 kg) lighter.
Like the battery system, the next-generation Volt's two-motor drive unit delivers increased efficiency and performance along with reduced noise and vibration. The drive unit operates up to 12 percent more efficiently and weighs 100 pounds (45 kg) less than the current system.
Both motors operate together in more driving scenarios, in both EV and extended-range operation. The ability to use both motors helps deliver a 19 percent improvement in electric acceleration from zero to 30 mph (2.6 seconds) and a 7 percent improvement from zero to 60 mph (8.4 seconds). GM engineers designed the Voltec electric motors to use significantly less rare earth materials. One motor uses no rare earth-type magnets.
Engine
| | |
| --- | --- |
| Type: | 1.5L DOHC I-4 |
| Displacement (cu in / cc): | 91 / 1490 |
| Bore & stroke (in / mm): | 2.90 x 3.40 / 74 x 86.6 |
| Block material: | cast aluminum |
| Cylinder head material: | cast aluminum |
| Valvetrain: | overhead camshafts; four valves per cylinder, double continuous variable cam phasing (DCVCP) |
| Ignition system: | individual coil-on-plug |
| Fuel delivery: | Direct fuel injection |
| Compression ratio: | 12.5:1 |
| Output (kW / hp @ rpm): | 75/101@5600 RPM |
| Max engine speed (rpm): | 5600 |
| Emissions controls: | Split Volume Common Can (SVCC) catalyst; fast light-off Oxygen sensor |
| Fuel type: | regular unleaded (87 Octane) |
2016 Volt highlights:
◾ New two-motor drive unit is up to 12 percent more efficient and 100 pounds lighter (45 kg) than the first-generation drive unit
◾ Two-motor design enables 19 percent stronger zero-to-30 mph acceleration
◾ Battery capacity has increased to 18.4 kWh using 192 cells (96 fewer than current generation) with weight reduced by more than 20 pounds
◾ Regen on Demand™ feature enables driver control of energy regeneration via a convenient paddle on the back of the steering wheel
◾ New 1.5L range extender, designed to use regular unleaded fuel, offers a combined GM-estimated fuel efficiency of 41 mpg (EPA estimate pending)
◾ Stronger body structure and quieter ride
◾ New braking system with improved capability and blended Regen feel
◾ New, five-passenger seating with available rear heated seats
◾ Location-based charging capability
◾ 120V portable cord set has a simpler, compact design with more convenient storage location
◾ Available illuminated charge port
The 2016 Volt goes on sale in the second half of 2015.
Source: General Motors.
(Visited 1 times, 1 visits today)