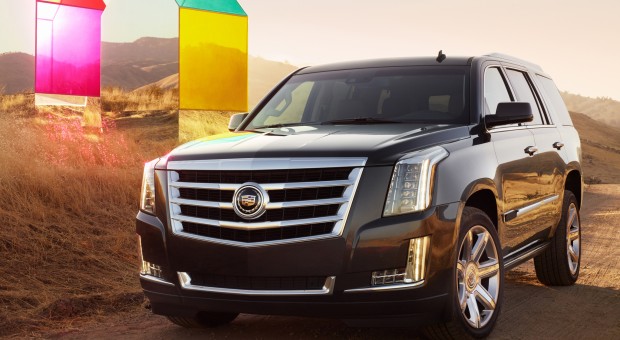 Look at the 2015 Escalade's LED Exterior Lighting
The all-new 2015 Cadillac Escalade's exterior design uses architecture-influenced approaches to take its unmistakable appearance to a new level of sophistication while the brand's heritage and the powerful appearance of modern urban buildings inspired a bold new interpretation of Cadillac's vertical light signature.
Vertical lighting, a Cadillac signature since 1948, remains a vital and ever-evolving theme for designers today. Davis and his team studied Cadillacs from history, especially the 1967 Eldorado and Deville models.
The strong relationship between glass and metal of Manhattan skyscrapers especially influenced the Escalade's designers.
The combination of the materials suggest the lighting elements are floating in space. Each of the five rectangular parabolas separated by metal accents in the headlamp appear to float within the lamp. Together, they give the lens the look of fine-cut crystal.
In particular, the tail lamps emphasize the technical dimension of using light-emitting diodes, or LEDs. At approximately one meter tall, the tail lamps are "neo-tailfins," recreating the drama from the 1960s in a modern interpretation.
Edge-lit blade technology is the only one that would make the light look like it was floating in space. The Cadillac Crest is also laser etched into the glass light blade. It catches the light as it passes through the blade.
A total of 142 LEDs make up the front and rear lights of the 2015 Escalade. Forty-eight LEDs – 17 for each headlamp and seven for each lower fascia lamp – fully enable the desired appearance and functionality of the front lamps.
The remaining 94 LEDs create the provocative appearance and technical functionality of the rear lamps. Each taillamp uses 29 LEDs with 36 in the center high-mount stop light.
---
Source General Motors, please read more.