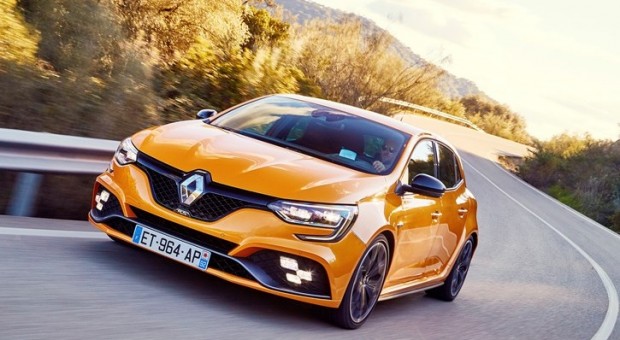 New Renault MÉGANE R.S.: Pure performance for people who love to drive
First unveiled at the Frankfurt Motor Show in September 2017, New Renault MÉGANE R.S. has been eagerly awaited by sports driving enthusiasts. Aiming to become – like its predecessors – a benchmark in the C-segment hot hatch market, this third generation of MÉGANE R.S. is packed full of Renault Sport expertise and passion.
Driven by its powerful design and focused on performance, New Renault MÉGANE R.S. makes no attempt to hide its motorsport pedigree, offering outstanding driving pleasure on the road and on the track.
• A chassis combining efficiency, agility, stability and comfort, equipped with the 4CONTROL fourwheel steering system and four hydraulic bump stop shock absorbers;
• A new generation 1.8-litre turbo engine, delivering 280hp and 390Nm thanks to the development work jointly carried out by engineers from Renault Sport Cars and Renault Sport Racing;
• Customers can choose one of four versions, adapted to all uses, with two types of transmission available (manual or EDC gearbox) and two types of chassis (Sport or Cup);
• State-of-the-art technological features, such as R.S. Vision, MULTI-SENSE or the new version of R.S. Monitor.
""Since the first generation of Mégane R.S. was released in 2003, we have constantly provided greater performance and more technology, offering improved driving pleasure without sacrificing the car's versatility for everyday use… Launched in 2009, Mégane III R.S. has become a genuine icon. Replacing it was a real challenge for the entire team. We're proud to have managed to produce a car with improved cornering efficiency, largely due to the introduction of 4CONTROL. The system improves both agility on tight corners and stability on fast bends, on the road and on the track. Drawing on the brand's vast motorsport heritage, New Renault MÉGANE R.S. has been designed by people who are passionate about cars for people who love to drive. Its versatility also makes it perfectly suited to everyday use." Patrice Ratti, Managing Director, Renault Sport Cars
After having been involved in the development process during 2017, I'm very proud to be the ambassador for New Renault MÉGANE R.S. I had the opportunity to drive the car at various racetracks – Monaco, Montlhéry and Spa-Francorchamps – and I was impressed by the efficiency of the latest onboard technologies. The 4CONTROL system is a dream come true for every driver looking for efficiency, since it improves both the agility and the stability of the car. It's a shame that four-wheel steering systems are banned in Formula 1!" Nico Hülkenberg, Renault Sport Formula One Team driver and Renault Sport Cars ambassador"