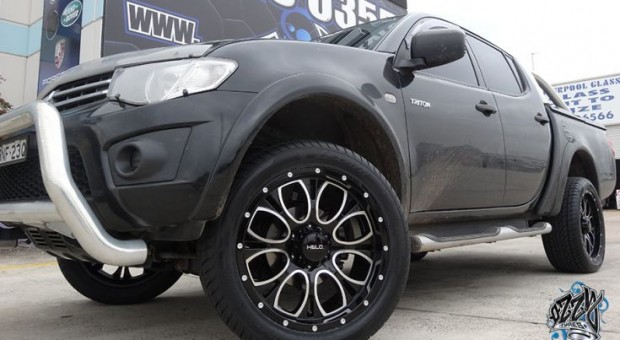 Purchasing Toyota Hilux Wheels "LIKE A BOSS" on the Internet
Changing the wheels that come pre-installed on your Toyota Hilux doesn't need to be an intimidating process. If you conduct a search online, you will come across a thousand vendors who are selling Toyota Hilux rims across the performance and custom wheel market.
You can gradually narrow down to a select few choices by considering the right size for both your car wheels and the tyres that will adorn them in near future. After you have made a proper choice for the Tyre size, you must consider the diverse materials modern rims/wheels are made up of and finally select a finish. Once you are equipped with the knowledge of the right size, material and finish, purchasing a set of Toyota Hilux Rims online will become a piece of cake.
Toyota Hilux Rim and Tyre Sizes
Standard rim sizes for Toyota Hilux models are 18 – 20 inches unless you have older models that may require 16 and 17-inch wheels. These sizes will seamlessly fit into your vehicle without any alterations, so you can make the choice between the smaller and larger wheel for performance or aesthetic reasons.
Most drivers desire the performance and look of a low-profile tyre, which is only possible with larger wheels. The smaller sidewall of a low-profile tyre allows for a fast steering response.
Climatic conditions also play a major role in deciding the type of Toyota Hilux Wheels that you must select. Even though performance tyres are best for the normal dry runners, they aren't the best options for people living in wet or snowy climatic regions. If you are looking for tyres for wet or snowy climates, you should opt for speciality tyres and rims.
Toyota Hilux Rim Materials
For your information, the standard factory wheels for the Toyota Hilux are alloy and these are light and best options for your vehicle. However, you may find some sellers online who sell steel and painted rims that fit the Toyota Hilux perfectly. Once you have decided the rim size and tyres that you are going to select, you can narrow your options down by opting for the right manufacturing material that you require.
Toyota Hilux Wheel Finishes
Even though brushed alloy is the standard finish when it comes to Rim finish for Toyota Hilux, coordinated painted wheels and polished chrome are also a popular choice of Hilux owners. Again, as a buyer you should always consider the climate when choosing your rim finish, as extreme temperature conditions and presence of too much salt in the atmosphere can damage most rim materials.
Chrome finish is the best choice for the people who love some bling on their car, while painted finish is a great choice for people who are looking for durability and don't mind a few periodic touchups on their rims.
Buying Toyota Hilux Wheels Online
As with any purchase on the Internet, buyers should look for the trustworthy seller only that has a steady record of customer service and lots of positive reviews. Toyota Hilux rims are a pretty expensive item to purchase, so the seller you select must back you by a guarantee since you will be making the full down payment before getting the wheels delivered to your location. You can also try ozzytyres.com.au for purchasing car rims and tyres. If you have any further questions regarding selecting the best wheels for your Toyota or any other make, you can get in touch with the customer care on the Ozzy website.
(Visited 8 times, 1 visits today)