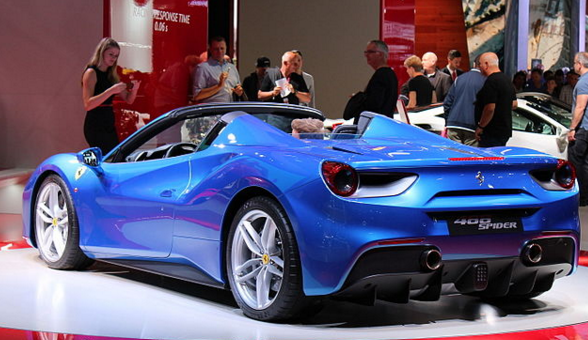 t goes without saying that if you want a sleek and sporty roadster, you should buy a Ferrari. The Italian car maker doesn't build eco-friendly hatchbacks or large SUVs. Their target market is those that yearn for high performance with a bit of luxury thrown in.
Of course, not everyone has the means to buy a Ferrari, given they are high-value sports cars. But, if you're lucky enough to own one, you'll wish you had done so sooner! Ferrari is a popular sports car maker known the world over.
One of their latest incarnations is the Ferrari 488 Spider. It's a model new for 2016 and is set to become an instant hit with motorists. Judging by the specs and taking it out for a drive, it's easy to see why. So, what's new with the Ferrari 488 Spider? Is it a car you should buy if you have a penchant for performance sports cars? Here is what you need to know.
Twin-turbo V8 and seven-speed dual-clutch transmission
Purists may dislike the fact that the Ferrari 488 Spider has a turbocharged engine. But, it's a necessity in today's modern world where CO2 emissions are a top priority. As you may know, turbochargers make engines more efficient. That means they use less fuel, and that obviously equates to lower carbon emissions.
On the flip side of the coin, turbocharging an engine also adds extra performance. The unit powering the Ferrari 488 Spider is a 3.9-litre twin-turbo V8 engine. At 660 brake horsepower, it offers 100 bhp more than its predecessor. It also offers 40% more torque too; as you can see, turbocharging does have its benefits!
Mated to the twin-turbo V8 engine is a seven-speed dual-clutch transmission. That means you can drive it like an ordinary automatic car, or you can shift manually. Without a clutch pedal, of course! To take advantage of the latter, you can use the steering wheel mounted paddle shifters.
So, what are the Ferrari 488 Spider's vital statistics? Well, so far we know that it has a 3.9-litre twin-turbo V8 engine. It also sports a seven-speed dual-clutch transmission.
What you don't know is how fast the car will take you on the road (or the track). Stupidly fast is perhaps the most appropriate answer I can give you! But, let's keep this technical, shall we?
According to Ferrari, the 488 Spider will go from zero to 100 km/h (62 mph) in only THREE SECONDS! It also boasts a top speed of 203 mph. It's safe to say this isn't a car that hangs around!
Razor-sharp handling on the road
Despite the fact that it's a roadster, the Ferrari 488 Spider still offers good handling. In fact, it's better than good; it's just plain perfect! The car is also one of the most aerodynamic cars to come out of Maranello in Italy.
As standard, the car comes with an electronic limited-slip differential. The "Side Slip Control 2" system is also one of the most advanced ESC systems around. So, if you like to drive your cars hard, this one will keep you safe.
The wheel and tyre combination offer more than 100% performance to keep you from sliding. Spirited drivers may wish to bookmark an online tyres website as the car does chew through them a lot! But, that's to be expected of such a high-performance roadster.
It's important to note the handling setup is an advanced one, but it's still a comfortable car to drive. It uses the same dampening rates as its coupe cousin, in case you wondered.
What does it come with as standard?
Any Ferrari owner will tell you no-one can resist ticking those options boxes when they order a new car! Still, if you didn't want any optional extras, just what would you receive as standard for your money?
A big selling point of the car's standard features is the electric retractable roof. It works at speeds of up to 30 mph, and will go from open to closed in 14 seconds.
Other features all 488 Spiders can enjoy include leather seats and keyless start. If you've got the roof up, climate control will keep temperatures comfortable inside. Meanwhile, satellite navigation will make sure you don't get lost in unfamiliar territory.
And what can you get as optional extras?
I think I'd probably spend all day writing what you can get extra on your new Ferrari 488 Spider! Highlights include 28 exterior colours, forged alloy wheels & racing seats.
It's worth checking out the configurator on the Ferrari website. Of course, one could speak to an "atelier" at a local dealership.