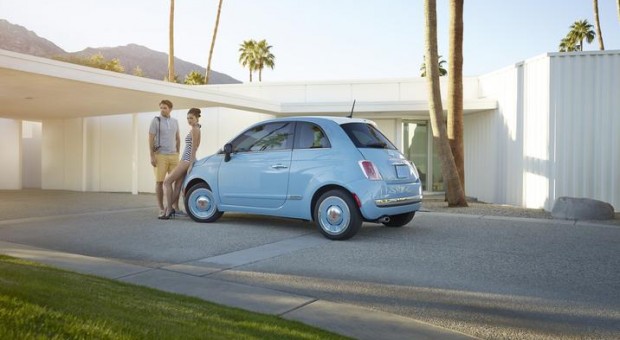 The New Fiat 500 1957 Edition Arriving Soon in FIAT Studios
Chrysler Group LLC, formed in 2009 to establish a global strategic alliance with Fiat S.p.A., produces Chrysler, Jeep, Dodge, Ram, SRT, FIAT and Mopar vehicles and products. With the resources, technology and worldwide distribution network required to compete on a global scale, the alliance builds on Chrysler Group's culture of innovation, first established by Walter P. Chrysler in 1925, and Fiat's complementary technology that dates back to its founding in 1899.
The Nuova 500 was the fruit of a strategy designed to develop and revamp Fiat's product range, embarked upon by the company during World War II. While the city of Turin was still being targeted by Allied air raids, and the company's Mirafiori offices were occupied by German troops, Vittorio Valletta, Fiat Managing Director and later company Chairman (after the death of Fiat's founder Giovanni Agnelli), asked Dante Giacosa to start thinking of new cars that could go into production after the war. The result would be the Cinquecento, an automobile that delivered on its mission to provide efficient and affordable mobility during Italy's period of rebuilding and economic recovery.
Italian car and design fans looking for a taste of the historic Cinquecento won't have to wait much longer. Today the FIAT brand opened orders for the 2014 Fiat 500 1957 Edition, arriving in FIAT studios nationwide in late spring. Pricing for this well-equipped limited-production model starts at $20,400 U.S. MSRP, just $1,900 more than a base Fiat 500 Lounge.
The Fiat 500 1957 Edition includes a sport-tuned suspension for improved handling, 16" forged aluminum wheels with a retro body color design, throwback "FIAT" badging and a premium Marrone (brown) and Avorio (ivory) leather interior.
The model is available in three classic exterior colors: Bianco (white), Verde Chiaro (light green) and exclusive Celeste (celestial blue). For a two-tone look, Verde Chiaro and Celeste exteriors are paired with a signature Bianco painted roof and mirror caps.
There's a romance about Italian cars, brands, fashion and design that make goods from this artisan nation among the most coveted around the globe. Since 1957, the Fiat 500 has embodied all four, empowering the Cinquecento to become one of the most iconic automobiles of all time. Fifty-seven years later, and with sales in more than 100 countries, the 2014 Fiat 500 1957 Edition commemorates its roots in uniquely crafted detail.
Based on the 2014 Fiat 500 Lounge model, the 1957 Edition enhances its iconic silhouette with a vintage look, thanks to classic exterior colors for this limited-edition Cinquecento, including Bianco (white), Verde Chiaro (light green) or Celeste (celestial blue). Inspired by the 1957 Fiat "Nuova" Cinquecento, an exclusive 16-inch retro wheel design features a wide chromed lip, body-color accent and large center cap with historic "FIAT" emblem. For improved handling, a sport-tuned suspension and all-season performance tires are standard. Completing the look are throwback "FIAT" badges on the front fascia and rear liftgate.
---
Source, Fiat – please read more.