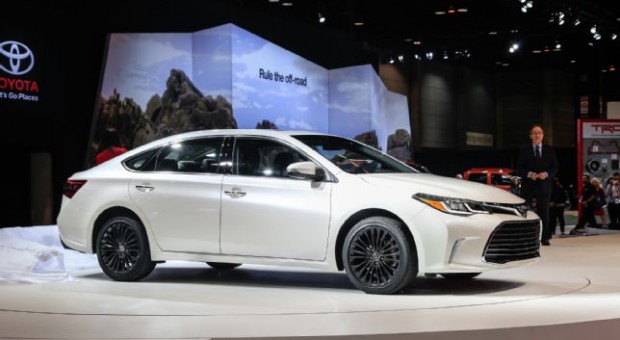 Toyota Unveils All New 2016 Avalon Plus Camry and Corolla Special Editions at the 2015 Chicago Auto Show
Toyota introduced a trio of new cars during the Media Preview of the 2015 Chicago Auto Show. The new line-up includes the refreshed, all-new 2016 Avalon along with the Camry and Corolla Special Editions, all making their world debut.
"This year we're switching gears to show you three equally exciting models – but this time without all of the dirt," said Bill Fay, group vice president and general manager of the Toyota division at Toyota Motor Sales. "The 2016 Camry and Corolla special editions, and the refreshed 2016 Avalon all share something in common: they are all products of a new Toyota."
The mid-sized 2016 Avalon sedan features updated styling, new LED headlights and taillights, returned suspension for enhanced comfort and upgraded convenience features. Available in three separate grades ranging from XLE to Unlimited, the all-new 2016 Avalon will turn heads at dealerships later this fall.
The limited production 2016 Camry Special Edition will be powered by a 2.5-liter four-cylinder engine paired with six-speed automatic transmission.
Like all Toyota vehicles, the Camry Special Edition will come standard with the Star Safety System. Production of the Camry Special Edition will be limited to approximately 12,000 units and will run from August 2015 to January 2016.
The 2016 Corolla Special Edition displays sporty styling features both inside and out, coupled with steering wheel paddle shifters, rear disc brakes and Sport Driving Mode. Its features are geared towards a "more spirited driver."
This special edition vehicle will be produced between August and December 2015 and will be limited to 8,000 units.
(Visited 5 times, 1 visits today)