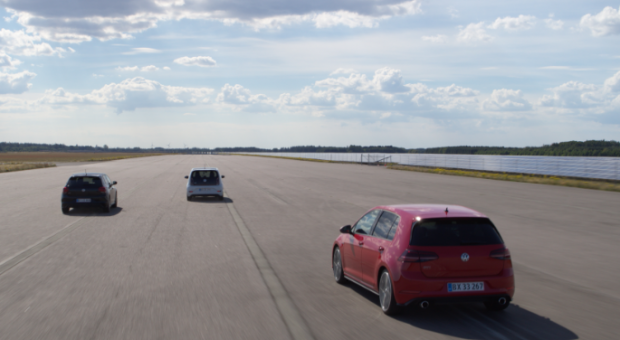 Volkswagen GTI challenges the 0-100 km/h record
It's not hard driving fast in a fast car, the real challenge is holding back.
Imagine being invited to a closed track to test drive some fast cars, and then when you show up, being told not to drive fast. That's what happened to former F1 driver Nicolas Kiesa, comedian Thomas Hartmann and tv-host Adam Duvaa Hall.
In a new short film, the three attempt setting the record in accelerating slowest from 0-100 km/h in the three Volkswagen GTI models: Golf GTI , Polo GTI and up! GTI. The challenge – which Kiesa calls the dumbest race ever – turns out to be quite difficult. No matter if you are a new driver, a car enthusiast or an actual professional driver, it's surprisingly hard to control your foot on the gas pedal, due to the powerful engine that lies beneath the hood.
First introduced in 1976 in Denmark, the Volkswagen GTI represented one of the most dramatic changes within the car industry with its compact form and lightness. Seven generations later, the GTI is still bringing in thrills for drivers of all kinds around the world, and has secured its place as one history's greatest performance cars. From the first Golf GTI back in 1976, the GTI technology is now also available in models Polo and up!.
See now how the challenge played out and who got the record time: