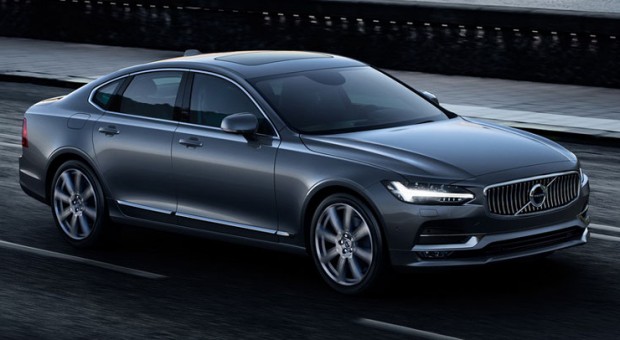 Volvo Cars launches its new S90 premium sedan in Detroit
Volvo Cars has chosen the North American International Auto Show (NAIAS) in Detroit to launch its new signature premium sedan, the S90, underscoring its long term commitment to the US market and providing a clear sign of its confidence in continued sales growth in the coming year.
Volvo sales in the US increased 24.3 per cent in 2015, with an especially strong performance at the end of the year with sales rising 87 per cent in October, 90 per cent in November and 89.9 per cent in December, driven by continued strong sales of the XC60 crossover and the new XC90 SUV.
The launch of the new S90 forms the second chapter in the complete renewal of Volvo's product range, which began in 2015 with the new XC90 SUV.
The XC90 received around 88,000 pre-orders in 2015, surpassing the company's expectations of around 50,000 and providing a strong signal that customers appreciate Volvo's new design, engineering and technological direction.
The S90 has been widely praised since its reveal to the world's press in December for its stunning exterior and sumptuous interior. Its proud yet non-aggressive face, characterised by a concave grille, itself a homage to the Volvo P1800, is home to Volvo's new Iron Mark. The T-shaped Thor's Hammer lights deliver a powerful sense of direction that makes the S90 unmistakable on the road.
Inside this low, four-door coupé, Volvo has taken cues from the success of its XC90 model and raised the bar with some stunning details on the new dashboard and instrument panel, including new air blades that stand vertically on each side of the Sensus user interface.
Semi-autonomous drive
The S90 launches with IntelliSafe Assist as standard. This includes Adaptive Cruise Control and Distance Alert and the advanced semi-autonomous drive feature, Pilot Assist.
The Pilot Assist functionality gives gentle steering input to keep the car properly aligned within lane markings up to motorway speeds of around 80 mph (130 km/h) and no longer needs to follow another car. Pilot Assist is another step towards full autonomous drive – a key innovation area for Volvo, and one which is highlighted at the show with the Concept 26 display, which envisions how a car interior could look and feel in a fully autonomous Volvo.
Hybrid powertrain option
The S90 comes with a clean and powerful T8 Twin Engine plug-in hybrid powertrain, delivering up to 410 hp of smile-inducing power that literally offers three different car experiences in one – Pure – Hybrid and Power.
World leading safety
The S90 also introduces a world first function to City Safety – large animal detection – a feature capable of detecting large animals such as large deer, horses or moose/elk, night or day. The technology offers an intuitive warning and brake support to help avoid or mitigate collisions with large animals.
Class leading driveability
The S90 has also benefitted from Volvo Cars' recent investment in a highly advanced chassis simulator.
Souce: Volvo
(Visited 4 times, 1 visits today)