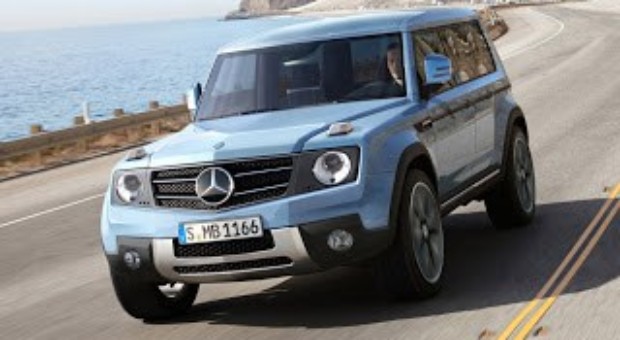 New Mercedes GLG and other 'mini SUVs'
New Mercedes
GLG
'Honey, I shrunk the kids!' could be Mercedes' slogan for the rumoured new GLG. Alongside the inflated Mini Countryman and the practical Skoda Yeti, another mini SUV is set to hit the market.
Never mind road monsters like the Mercedes G Class or some of Landrover's beefiest models. These mini SUVs seem to be designed for those who hunt wild animals in narrow city parking spaces. But all prejudices (and pretentions) aside – what is their appeal?
Marketed as 'family cars', miniature SUVs are now available for a range of budgets. The Mini Countryman starts at £15,380 (- £21,365); a Skoda Yeti is available from £14,135 (- £23,260).
They are also far more efficient with their fuel than standard SUVs. In essence, they are a reasonably affordable fashion statement, which combines space and practicality with visual appeal – sounds like a good alternative to a no-nonsense family Volkswagen estate!
Skoda Yeti
The Yeti is without doubt Skoda's best SUV to date. According to insurance statistics it is also one of Britain's most popular SUVs.
It certainly is a more than valid rival for the Nissan Qashqai, which did extraordinarily well in terms of new registrations in 2010 and 2011 insurance statistics.
Interior quality is what may be expected from Volkswagen Group cars – efficient, practical, predictable, but also durable.
A maximum boot space of 1760 litres allows plenty of space for luggage and family pets, and the Varioflex back seats are flip-able to transport even the least flat-packed furniture.
Road tax on the 1.2 TDI petrol engine releases only 149g CO2/km, making the Yeti very affordable in terms of road tax. With a combined fuel consumption of about 44mpg, petrol won't add up to cost too much more than for a Golf estate.
Mini Countryman
First of all – this isn't 'mini'.
The new Minis are fun to drive, funky to look at, and fine design copies of the original. The Countryman is…BIG – oxymoron, much? Its origin and design are bound to split opinions, however it is the first Mini which can be seen as a valid family car.
Like the Skoda Yeti, the Mini Countryman may look like a shrunken SUV, however neither of them is a 4×4. Both are powered by a front-wheel-drive, and able to venture into off-road terrain a little due to their raised suspensions.
The Countryman 'ALL4' additional package operates a more sophisticated system of splitting drive between front and rear wheels when the in-built traction control detects that the vehicle has lost grip.
The Countryman is available as either four- or five-seater, and has a boot capacity of 350 litres – significantly smaller than the Yeti, however also significantly bigger than 'mini'.
Truly 'mini' however are both CO2 emissions and petrol use – the Mini Countryman runs on a combined 40mpg on petrol, and 60mpg on diesel.
Slotting neatly into this trend, the new Mercedes GLG, if and when it appears on the market, will certainly sell – until trend moves on and away from this odd land of shrunken giants.
(Visited 135 times, 1 visits today)