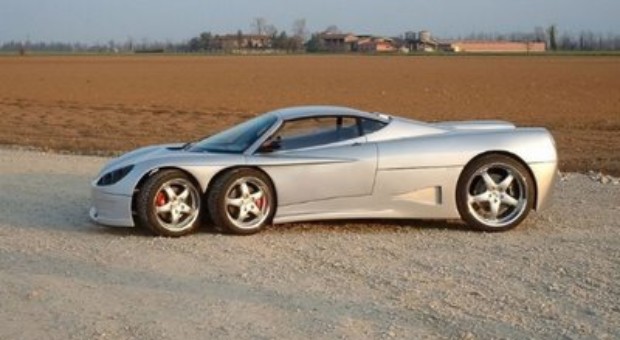 2009: Covini C6W amazing car prototype
— Strange and beautiful speed car
C6W project is pointed in the direction of new research into active and passive safety. This aspect encouraged the interest of many companies in its development.
4 steering front wheels permit to increase braking, comfort and directional stability. Besides, the lightness of the car (less then 1200Kg), due to its essentiality, can give superb driving sensations.
Tehnical specifications:
ENGINE: rear, longitudinal, 8 cylinder in V formation, 4 valves per cylinder, naturally aspirated, petrol direct injection Bosch-motronic.
CAPACITY: 4200 cc
MAX POWER: 440 PS (325KW) at 6400 rpm
MAX TORQUE: about 470 Nm at 2700 rpm
TRANSMISSION: rear wheel drive transaxle
GEARBOX: mechanical 6-speed + reverse. Manual and electro-hydraulic steeringwheel mounted servo
CHASSIS: steel tubular with carbon fibre reinforcements and structural parts
SUSPENSION: independent front and rear wishbones
WHEELS AND TYRES: front 15in wheels with 205/45-15 tyres; rear 20in with 345/25-20 tyres
BRAKES: front and rear vented Brembo discs. Bosch servo and electronic brake distribution
BODYWORK: glass fibre and carbon fibre
DIMENSIONS: length 4180mm; width 1990mm; height 1080mm; wheelbase 2230mm/2750mm (to foremost/middle front transaxle); front track 1540mm; rear track 1620mm ; dry weight 1150Kg
TOP SPEED: 300Kph (185mph)
Check the overview about this car on the producer's website
(Visited 4 times, 1 visits today)