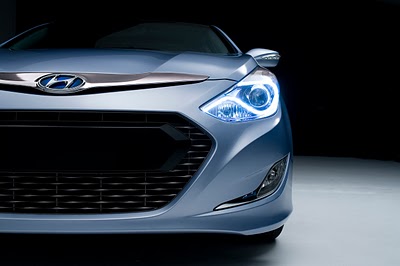 2011 Hyundai Sonata Hybrid
The 2011 Hyundai Sonata Hybrid is the Korean company's first shot at the hybrid segment and it's not messing around.
The Sonata Hybrid boasts the highest combined horsepower output of any hybrid sedan in its class and an expected best-in-class EPA highway rating of 39 mpg, not to mention the first use of lithium-polymer batteries in the automotive industry. That's pretty strong out of the gate.
Here are the basics: The Sonata Hybrid combines Hyundai's 169-horsepower, 2.4-liter Theta II inline-4 with a 30-kilowatt electric motor. This particular Theta engine runs on the Atkinson cycle and uses continuously variable valve timing along with several friction-reducing technologies to boost efficiency by 10 percent compared to the standard Theta power plant.
This hybrid powertrain's combined output of 209 hp tops all sedans in the class, while the Sonata Hybrid also happens to be one of the lightest midsize hybrid sedans at 3,457 pounds.
Like the Toyota Camry and Ford Fusion hybrids, the Sonata Hybrid can run on electric power alone, but Hyundai also claims its car can achieve 100 km/h (62 mph) in the electric mode. This is one of the reasons why the Sonata delivers such an impressive highway mileage number.
Photo gallery with Hyundai Sonata Hybrid
The six-speed automatic transmission comes from Hyundai, but this application puts an electric motor in place of the torque converter, creating a hybrid powertrain that is more efficient and less costly than the CVTs used by its competitors, Hyundai says.
More conventional elements of the Sonata Hybrid include a regenerative brake system, start/stop technology and an electric air-conditioning compressor.
2010 New York: 2011 Hyundai Sonata Review
Hyundai introduced the 2011 Sonata Hybrid at the New York Auto Show and it will include breakthrough lithium polymer batteries in its technology.
The vehicle will display unique approaches in hybrid powertrain design, battery technology and vehicle appearance. The Sonata Hybrid is Hyundai's first hybrid in the U.S. market.
2011 Hyundai Sonata Hybrid Inside Review