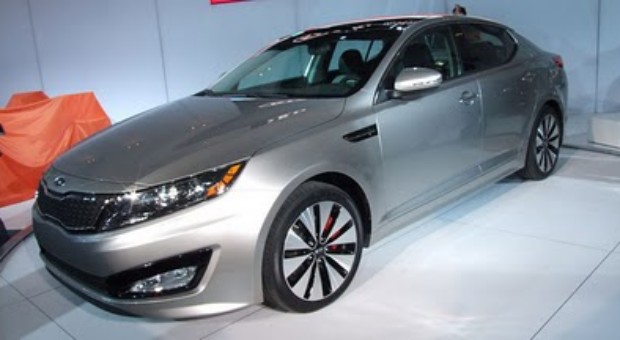 2011 Kia Optima Sedan Unveiled in NY: Offered with 2.4L, 2.0 Turbo and Hybrid Powertrains
The next generation Kia Optima is set to make its world premiere at the 2010 New York International Auto Show.
"The next generation of Kia Optima possesses the power to surprise," says Peter Schreyer, Kia's Chief Design Officer. "It's a car that people will simply not expect from Kia – and that's exactly what we set out to achieve."
The saloon exudes an athletic confidence from every angle – its raked roofline, high and pronounced shoulder line of its sculpted flanks and its extended wheelbase are complemented by flared wheelarches and a shallow glasshouse that create a saloon with a muscular, self-assured stance.
The striking visage of the car features a new interpretation of Kia's bold 'tiger' family face that's edged by piercing projector headlamps.
Following the theme of recent model revisions, new Kia Optima is longer, lower and wider than before, the Kia's coupe-like profile is enhanced by the sweeping chrome arc that flows from A to C pillar, a distinctive design motif that visually lowers the car further still and enhances its cab-backwards proportions.
"For this car we started with a clean sheet and worked to achieve an exterior design with a European feeling and stance," explains Gregory Guillaume, Chief Designer, Kia Europe. To help achieve this, the exterior was designed by his team in Frankfurt. The interior was created by the design team in California.
The new D-segment offering is spacious, and with class-leading levels of safety and luxury equipment, the intelligently configured and driver-oriented cabin underlines a newfound poise and presence.
"This new model embodies Kia's confident new design direction," says Schreyer. "It's a global car with individual appeal."
Kia Optima Sedan Photo Gallery
Kia Optima 2011 – New York Auto Show 2010
Building on momentum established in 2009 with three new products, record U.S. market share and the opening of Kia Motors' first automotive assembly plant on U.S. soil, Kia Motors America (KMA) unveiled four all-new vehicles during a press conference at the New York International Auto Show: the 2011 Optima midsize sedan, Forte five-door compact, and the Sportage and Sorento SX compact CUVs.
(Visited 13 times, 1 visits today)