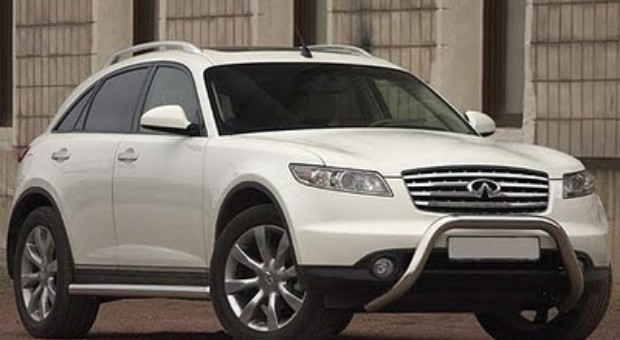 The history of Infiniti
Infiniti is an upscale automaker from Japan. Though most of its vehicles are related to those sold by parent company Nissan, Infiniti looks to achieve a premium status by infusing its cars and SUVs with spirited performance and additional luxury content.
The Infiniti brand was launched for the 1990 model year. Its purpose back then, as it is now, was to create and sell premium vehicles in America that wouldn't have otherwise fit in with Nissan's more mainstream image.
In its first full year, Infiniti started out with two luxury cars, the Q45 and the M30; the entry-level G20 was introduced soon after. Initially, the brand's sales were disappointing, a fact many attribute to some of Infiniti's poorly received advertising at the time.
The company's initial campaign aimed to bring about brand awareness with Zen-influenced spots that focused on nature.
However, the ads didn't show the actual cars, and many believe this omission did no favors for a company that was hoping to have buyers recognize and clamor for its vehicles.
As the 1990s moved along, Infiniti slowly added more vehicles to its lineup. The Q45 found its market (though it was still outsold by competing offerings from Lexus). The car's 278-horsepower V8 was class-leading in its day.
On top of that, the Q45 offered cutting-edge technology; it was the first vehicle to offer an active suspension system. By the late '90s, Infiniti had rolled out the QX4, an SUV that was based on the Pathfinder. The sport-ute's unibody platform gave it a leg up in on-road ride comfort and handling compared to competing truck-based luxury SUVs.
Sales across the Infiniti lineup grew steadily throughout the '90s. Still, by the end of the decade, the marque fell short of both Lexus and Acura in terms of popularity.
The early 2000s saw Infiniti making a determined effort to sharpen its focus and upgrade its products. Its stated intention was to create vehicles of exceptionally high quality and performance.
The Q45 was redesigned with this goal in mind, but it was the introduction of the entry-level G35 in 2003 that finally gave Infiniti the kick-start it sorely needed. Based on the FM platform, the car, in both sedan and coupe versions, met with immediate sales success. The FX35/FX45 soon followed, a crossover SUV that emphasizes performance, mating sports-car handling with the utility of a wagon.
Today, Infiniti still trails competing marques like BMW, Audi and Lexus in brand recognition and popularity. However, recent improvements in its product line have not gone unnoticed, and the brand has won the respect and praise of buyers and automotive journalists alike.
New Infiniti Essence Concept
(Visited 1 times, 1 visits today)