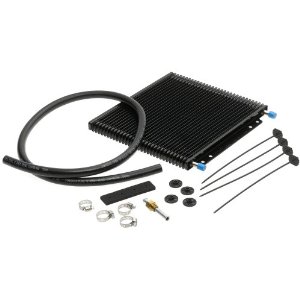 Installation of a Hayden transmission cooler
I installed a transmission temperature gauge on my '96 CC 4X4 Powerstroke. Around town in 80-90 degree temperatures the transmission temperature never exceeded 170 degrees.
However, when pulling my 25 foot travel trailer at highway speeds I found that the auto transmission was getting as hot as 230 degrees on mountain grades and was running at 200 degrees on the flats when air temps were over 90 degrees.
Automatic transmission fluid (ATF) begins to break down at temperatures over 170 degrees.
The rate of breakdown doubles for every 20 degree raise in temperature. It is obvious that the stock transmission cooler does not do an adequate job during hot weather.
I ordered a Hayden 679 transmission cooler from DIS and installed it in series, after my stock cooler. The Hayden cooler is much larger than the stock unit.
After the installation I took a 400 mile trip over southern California mountains and across the Mojave Desert.
In spite of ambient temperatures in excess of 100 the transmission temperatures never exceeded about 180 degrees.
This included climbing long mountain grades. Even in 100 plus temperatures the transmission normally ran at 170. Without the trailer the transmission is running at 140-150 in 90 degree plus temperatures. In cooler air temperatures (60s-70s) transmission temperatures are in the 140-150 range.
The Hayden cooler can be ordered from DIS for about $57 plus shipping. They also said I needed an adapter engine kit, which I did not need.
The cooler comes with everything I needed to install the unit, in fact I had most of the hose and one hose clamp left over. I installed the Hayden cooler below the stock cooler.
I ran a loop of hose from the return end of the stock cooler to the Hayden unit and connected the existing return line to the Hayden.
Fluid now flows through the factory cooler, then into the Hayden unit and then back to the transmission. I encountered no major problems installing the unit, the entire project did not take more than one hour(the directions say it should take 30 minutes).
Parts Included in the Hayden 679 Cooler Kit: Cooler, 4 hose clamps, hose, 4 nylon connectors, 4 small foam pads and one threaded adapter.
I only used two nylon connectors, three hose clamps and about 10 inches of hose. The nylon connectors substitute for bolts and hold the cooler in place.
This advice comes from: Automobile Engine Oil