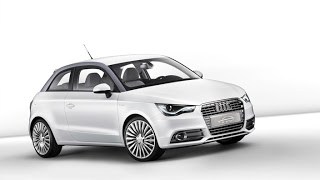 The Audi A1 e-tron is an electric car with a range extender – it is powered purely by electric motor. Audi has created this four-seater specifically for transport in the world's rapidly growing megacities.
The electric motor, installed transversely at the front, supplies a continuous output of 45 kW (61 hp) and a peak output of 75 kW (102 hp), transmitted to the front wheels via a single-stage transmission. The peak torque of 240 Nm (177.01 lb-ft) is available right from the off. The A1 e-tron sprints from 0 to 100 km/h (62.14 mph) in 10.2 seconds and on to a top speed of more than 130 km/h (80.78 mph).
It draws its energy from a package of lithium-ion batteries arranged in a T pattern beneath the center tunnel and rear bench seat. The liquid-cooled battery supplies 12 kWh of energy. A charging process takes barely three hours with a 230V supply, and less than one hour with a heavy current supply.
While on the move, the driver determines the level of recuperation at five-stage shift paddles mounted on the steering wheel. The Audi A1 e-tron covers over 50 km (31 miles) on one battery charge.
For longer distances of up to 250 km (155.34 miles), there is a range extender on board – a small rotary-piston engine with a displacement of 254 cm3. Running at a constant 5,000 rpm, it recharges the battery via an alternator that generates up to 15 kW (20 hp) of electrical power.
The great strengths of the rotary-piston engine are its vibration-free, virtually noiseless operation, compact dimensions and extremely low weight. The entire assembly weighs just 65 kilograms (143 lb), including the alternator, the special power electronics, the intake, exhaust and cooling system, the acoustic encapsulation and the subframe.
According to the draft for standardization for determining the consumption of range extender vehicles, the Audi A1 e-tron consumes just 1.9 liters per 100 km (123.8 US mpg) – a CO2 equivalent of 45 g per km (72.42 g/mile).
Please read more!
This time the premium brand is releasing this promotional video for the Audi A1 e-tron – a nearly all-electric variant of its compact hatch.
The A1 e-tron comes with an electric motor producing 75 kW (102 PS) of power (45 kW / 61 PS continuous) and 240 Nm (177 lb-ft) of torque (150 Nm / 111 lb-ft continuous) juiced by a 12 kWh lithium-ion battery pack.
The range on the A1 e-tron solely in electric mode is 50 km (31 miles). A range-extending engine helps improve that number to 250 km (155 miles).
That range-extender is a 15 kW single-piston rotary engine used to charge the batteries as the car is running.
The emissions and fuel-economy numbers look good but they're not zero given the range-extender. Consumption on the European cycle is 1.9 liters/100 km and CO2 emissions are very low 45 g/km.
Top speed is 130 km/h and the 0 to 100 km/h sprint takes 10.2 seconds.