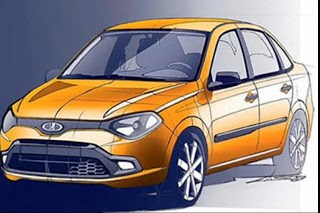 The latest car of the Russian Lada, Lada Granta is the fruit of collaboration with France##Q##s Renault and technical platform is built on the Logan. Granta could be presented at the Moscow Motor Show in August.
Production will begin at the end of 2011, and Lada officials announced an annual production of 400,000 pieces. The manufacturer has not announced the price model, but market sources say that Grant Lada will cost about 5,000 euros (190,000 rubles).
Logan sales in Russia increased by 17% last year, from 53,869 to 62,826 units, nearly two times slower than the car market, which rose by 30%, from 1.46 to 1.9 million cars.
Logan went down last year in the top position selling brands, six, according to a Commission of Auto Manufacturers, the Association of European Businesses in the Russian Federation. The first four places are occupied by local manufacturer Lada models, and is situated on five Ford Focus.
In December, the advance sales Logan was 31% from 5143-6743 cars by half compared with market developments, increasing by 60%, from 128,137 to 204,586 units.