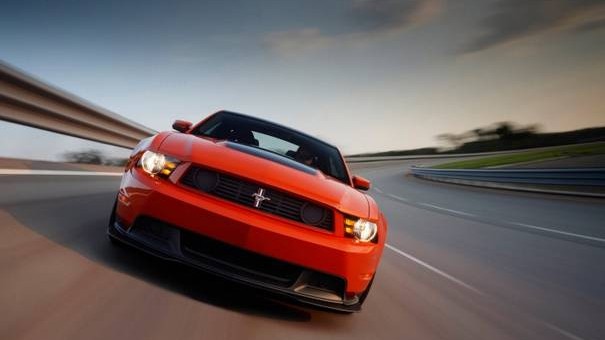 The Ford Mustang is an American automobile, originally based on the Ford Falcon compact. The first production Mustang, a white convertible with red interior rolled off the assembly line in Dearborn, Michigan on March 9, 1964.
Introduced to the public at the New York World's Fair on April 17, 1964, and via all three American television networks on April 19, it was the most successful product launch in automotive history, setting off near-pandemonium at Ford dealers across the continent.
The original Mustang inspired the term pony car and prompted many imitators. The Mustang's combination of sporty design, low price, and overall performance allowed it to sell over one million units in its first 18 months on the market.
As one might expect, the Mustang delivers a good deal of power, as well as a tight suspension and anti-lock brakes to help handle that power.
The base model is a 210hp V6, but a 300hp V8 is also available. The ride was improved not only by the addition of new struts, but also by an increase in the width of the car, a much more solidly built frame, and 16″ wheels (or 17″, depending on trim).
After a number of different generations and redesigns, the Mustang remains available today.
In crash tests carried out by the NHTSA, the Mustang performed well, receiving 5/5 stars for front impact and rollover and receiving 4/5 stars for side impact.
2012 Ford Mustang Boss 302
The all new 2012 Mustang Boss 302 has been revealed at the historic Laguna Seca race track in CA. Check out this best-handling straight-production Mustang ever offered by Ford.